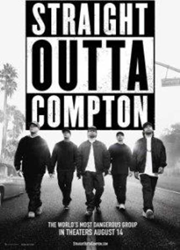 (PRWEB) October 06, 2015
STRAIGHT OUTTA COMPTON outgunned box office rivals this month maintaining the number one position in the country for a whopping three weeks in a row. Yet the riveting story of rap pioneers, NWA isn't the only project that's exceeding the expectations of top movie execs and social media analysts alike. Influencer marketing guru's, SharkReach were enlisted to produce a promotional campaign for Universal Pictures' record setting musical biopic. The results, as reported by 3rd party SocialEdge, produced a 'Reach" of 128,332,961.
SharkReach credits their uber-successful influencer marketing campaign, which was designed to deliver 6.5 million impressions and has achieved 128 million thus far, to their two pronged approach.
The first element incorporated a screening and roundtable event which activated 3 key influencers including Dr. Dre's son Curtis Young. The Roundtable included all the original members of NWA (including the producers Dr. Dre & Ice Cube) and the entire cast of SOC. The second element featured a 'Compton Tour' hosted by both Eazy E's son, Eric Wright Jr. & Dr. Dre's son, Curtis Young. TMZ was included on the tour and a series of social posts were placed which were echoed by the hip hop community.
"SharkReach executed a compelling and unique program with the offspring of NWA for the film STRAIGHT OUTTA COMPTON. The authentic relationship they have with their talent makes them stand out in the 'influencer marketing' space", said Doug Neil, Universal Pictures.
"At SharkReach, we are an influencer owned company, meaning all of our influencers receive stock options in SharkReach. This empowers our talent to go the extra mile for our brand partners. With influencers as our stakeholders, we are able to execute campaigns far out of reach of other 'agency's'. In this case our activation was as organic as possible and it went viral multiple times on Instagram & Facebook", said Steve Moriya, SVP, SharkReach, Inc.
For more information the Straight Outta Compton case study can be viewed at:
https://www.clearslide.com/view/mail?iID=JEG44Y4GH8AXC5DFZG9N