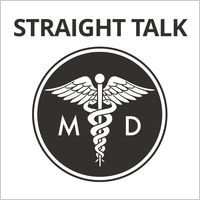 ...at this point, it's a labor of love, but it's worth every minute to me because it's a rewarding pursuit.
Orange, Calif. (PRWEB) January 12, 2016
Transgender youth. Cell phones and brain tumors. Economics of obesity.
No topic is too sensitive or too controversial for Dr. Frank Sweeny's podcast, "Straight Talk MD".
Sweeny, a physician with Allied Anesthesia Group in Orange, launched the weekly podcast in November to explore the science behind conventional and controversial medical issues that have considerable public health impact.
"The main thing I'm looking for is to deliver good, solid information that has value for our listeners," Sweeny said.
A weekly lineup of world-class experts ensures authenticity and reliability on "Straight Talk MD". To date, guests have included:

Dr. John Cawley, Cornell University professor studying the economics of risky health behaviors, with a focus on obesity, speaking on "The Price of Obesity"
Dr. Johanna Olson-Kennedy, medical director of The Center for Transyouth Health and Development at Children's Hospital in Los Angeles, the largest transgender youth clinic in the United States, presenting "Transgender, Transition (Part 1)"
Dr. Leonard S. Sender, medical director of the Hyundai Cancer Institute at Children's Hospital of Orange County, speaking on "Leukemia and Other Cancers"
Response from the public, as measured in downloads, has been extremely positive. Within one week, "Straight Talk MD" made it into the top 20 of iTunes' "New and Noteworthy" list in Science and Medicine. "Three times since then we have made number one in 'New and Noteworthy,' which is much better than we thought we would do," Sweeny said.
The podcast can be accessed and downloaded from iTunes, Stitcher and on Sweeny's website http://www.straighttalkmd.com
Sweeny is grateful to the other members of Allied Anesthesia who have taken over some of his duties, allowing him time off during the week to work on the podcasts.
"It's a lot work and, at this point, it's a labor of love, but it's worth every minute to me because it's a rewarding pursuit," Sweeny said. "Just the fact that I get to meet these people, talk to them and pick their brain for an hour or two a session is fascinating to me."
About Allied Anesthesia: With over 100 highly qualified physician anesthesiologists on staff, Allied Anesthesia provides adult and pediatric anesthesia services to St. Joseph Hospital of Orange, CHOC Children's Hospital, St. Jude Medical Center in Fullerton, San Antonio Community Hospital in Upland, St. Mary's Hospital in Apple Valley and many other Southern California health care facilities. In 2014, Allied Anesthesia joined with Fullerton Anesthesia Associates and Upland Anesthesia Medical Group to consolidate best practices in more than six hospitals and more than a dozen ambulatory surgery centers. The expanded medical practice is dedicated to offering the highest comprehensive quality of care and the most cost-effective procedures in all facilities they serve. All Allied physician anesthesiologists are board certified in Anesthesiology and they staff and manage the most efficient operating rooms in Southern California. Allied is a member of the California Society of Anesthesiologists, the American Society of Anesthesiologists, and the Anesthesia Quality Institute.
For more information, visit: http://www.alliedanesthesia.com