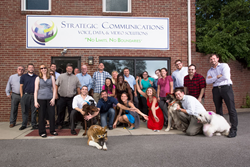 Strategic Communications is looking forward to building a stronger business relationship with the Cisco Team.
Louisville, KY (PRWEB) February 16, 2017
Strategic Communications announced today it has achieved Cisco® Gold Certification. To earn Gold Certification, Strategic Communications met rigorous standards set forth by Cisco in networking competency, service, support and customer satisfaction.
"The Strategic Team has been working on this effort for the past two years, we are delighted we have met our goal in achieving Cisco Gold Certification", says Kathy Mills – Owner and CEO of Strategic Communications. "This accomplishment required hard work, diligence and sacrifice from the entire Strategic Team. Strategic Communications is looking forward to building a stronger business relationship with the Cisco Team."
The Cisco® Channel Partner Program provides a framework for partners to build the sales, technical and Cisco Lifecycle Services skills required to deliver Cisco solutions to end customers. Through the program's specializations and certifications, Cisco recognizes a partner's expertise in deploying solutions based on Cisco advanced technologies and services. Using a third-party audit process, the program validates a partner's technology skills, business practices, customer satisfaction, presales and post-sales support capabilities, and other critical factors that customers consider when choosing a trusted partner.
As a Cisco Gold Certified Partner, Strategic Communications has met the requirements for attaining the broadest range of expertise across multiple technologies by achieving Cisco advanced specializations in the four following areas: enterprise networks architecture, security architecture, collaboration architecture and data center architecture. In addition, Strategic Communications has integrated Cisco Hybrid IT, the resale of cloud and managed services, into its offerings and is required to ensure high customer satisfaction in collaboration with Cisco. Cisco Gold Certification provides Strategic Communications with access to comprehensive sales, technical, and lifecycle services training and support available from Cisco.
About Strategic Communications:
Strategic Communications is a Women Owned Small Business technology company based in Louisville, KY. Founded in 1994, Strategic's Federal, Commercial, SLED and Engineering Team has provided an array of Networking, Collaboration, AV/VTC, Security and Cloud solutions to resolve their customer's business challenges. Strategic's customer base includes The United States DOD and Civilian Agencies, and many Fortune 500 companies. Strategic was awarded a multitude of government contracts including NASA SEWP V, NITAAC CIO-CS, SPAWAR, SEAPORT-E, SOCOM, Centcom, AFRL, MCNOSC, UHUHS, GITM, NAVALWARFARE, NASPO ValuePoint, and many others.
Cisco Disclaimer:
Cisco and the Cisco logo are trademarks or registered trademarks of Cisco and/or its affiliates in the U.S. and other countries. A listing of Cisco's trademarks can be found at http://www.cisco.com/go/trademarks. Third-party trademarks mentioned are the property of their respective owners. The use of the word partner does not imply a partnership relationship between Cisco and any other company.