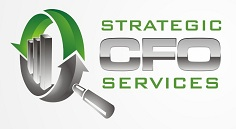 After Andy Fleischer, President of Strategic CFO Services took a look at my financials, we worked out a plan to refocus my company based on profitability.
Washington, D.C. (PRWEB) January 28, 2014
Today, Strategic CFO Services announces immediate availability for Opportunity Identification: Helping closely-held businesses find hidden options to drive higher revenue, lower operational costs and increase positive cash flow. Now is the time for corporations to be proactive in making plans to increase profitability and performance for 2014 and beyond.
Positive Client Impact
Kirk Laughton, President of Top Brass Lighting, a designer and manufacturer of custom lighting fixtures for residential, government, and commercial interiors, said, "After Andy Fleischer, President of Strategic CFO Services took a look at my financials, we worked out a plan to refocus my company based on profitability. Andy pointed out underutilized assets and encouraged me to take action with new processes and profitability improvements. After several tough years, sales are growing and I am excited about the future."
Opportunity Identification
Many companies see significant improvement to their bottom line by leveraging potentially overlooked or hidden options to optimize profitability. Strategic CFO Services empowers businesses to cut costs and maximize cash flow and shares five ways to increase profitability:
1. Increase new revenue with top-line revenue growth. In sales, the "low hanging fruit" is great, but consider going "higher up the vine" with alternative approaches to enjoying new revenue with existing customers and penetrating specialized, niche market offerings. Make dramatic progress with better alignment of sales tactics and technology.
2. Streamline processes to enhance customer satisfaction, reduce costs and drive cash flow. Strategic CFO Services recently re-engineered a government contractor's cost collection and billing processes using Lean Six Sigma techniques to cut three weeks out of the process. This process optimization results in a permanent cash flow pull-forward occurring every month. Faster receivables increase liquidity to pay suppliers and reduce line of credit borrowings, saving on interest month over month.
3. Review staffing plans for the upcoming year. Has your business grown or diminished over the past few years? Chances are your staffing plan needs adjustment if you've experienced anything but flat sales or expect to grow or downsize this year. By adding a couple of strategically placed new hires, a company increases its "bench strength," supporting growth and adapting to critical business changes. By the same token, it may be possible to automate certain tasks with new technology, to drive real costs savings by eliminating manual labor-intensive processes.
4. Acquire technology that steps-up performance. Many small to medium sized businesses are moving to cloud based systems and accounting, accessing every business touch point from the office, home, tablet and phone. Solutions often include affordable software as a service (SaaS) subscription-based pricing, which can be relatively simple add-on(s), or integration with current systems. More effective automation accelerates efficiency and may even scale a growth spurt.
5. Invest in resolving critical business weaknesses. Every small to mid-sized business has limited resources for investment, so it is critical to maximize the return on these resources by focusing on the area that will best delight customers and drive future profits. Strategic CFO Services works with business owners every day to identify and recommend solutions to real world business problems. We recommend looking at the greatest weakness in a business and determining the right balance of additional staff, new technology, process change, or equipment investment to turn this weakness into a strength.
"We specialize in identifying and creating opportunities for improvement that may not be evident during day-to-day operations," states Fleischer. "We work with clients to identify key opportunity levers and find new avenues to reduce costs, maximize cash flow, grow revenues and optimize their company's profitability."
About Strategic CFO Services
With decades of experience, Strategic CFO Services is operated by a team with real world CFO experience in improving businesses in most industries. Whether a company needs assistance in M&A or business sale, restructuring or turnaround, or technology, cash flow, revenue, or profitability improvement, Strategic CFO Services has the resources to identify and help drive improvement. The firm boasts a team of talented, seasoned CPAs, MBAs, accountants, and bookkeepers that provide strategic management consulting and accounting services focused on the needs of closely-held businesses in the Mid-Atlantic region. SCFOS provides part time CFO and strategic consulting, business system consulting, and accounting services to companies in the manufacturing & distribution, technology, services, government contracting, commercial contracting, renewable energy, retail, real estate and health care industries. For more information, please visit http://www.scfos.com.
Media Contact:
Jon Kidd
(410) 583-9669
http://www.scfos.com