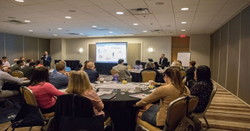 insights and practical takeaways that enhance their professional development, build knowledge, and improve skills...
Chicago, IL (PRWEB) June 05, 2017
Leading practitioner of market intelligence solutions, Proactive Worldwide, Inc. is pleased to be facilitating an interactive, rigorous 2-day session, "Foundations in Competitive Intelligence Boot Camp" in Washington D.C. this week, June 8-9, 2017, at the Courtyard Washington Embassy Row.
Proactive's CEO Gary Maag and President David Kalinowski will team up once again for this event on behalf of the global non-profit group, Strategic and Competitive Intelligence Professionals (SCIP). SCIP International offers several programs during the calendar year at multiple locations, providing training to hone skills and sharing innovations on the horizon within the industry to working practitioners.
Maag said that the boot camp is structured to provide strategic intelligence professionals the necessary knowledge for participants to receive SCIP's Fundamental Certification by taking the applicable final exam at the end of the course. The workshop is specifically designed for corporate intelligence professionals engaged in organizational decision support roles. Kalinowski adds, "Gary and I have enjoyed for over 25 years providing intelligence professionals with insights and practical takeaways that enhance their professional development, build knowledge, and improve skills that add value to them and their organizations."
Maag conveys, "My goal, David's goal, and SCIP's goal is to help each professional in our field develop a well-rounded set of core skills to lead intelligence engagements from project design to final deliverable, and to help inform, enable, and impact executive investment decisions." For more information or to register for this boot camp in Washington, D.C., visit https://www.scipbootcamp.com/.
About Proactive Worldwide, Inc.
Proactive Worldwide, Inc. is a global research and strategic intelligence consulting firm that provides evidence-based, constructive information within the competitive intelligence, market intelligence, and customer insights domains. Anchored by primary source research for over 21 years, Proactive's multilingual professionals assist our clients with offerings that include but are not limited to competitive research and assessment services, market entry and defense strategies, war gaming simulations and scenario planning events, and customer experience and user experience studies. To learn more, visit http://www.proactiveworldwide.com.