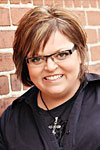 I am honored to have the opportunity to serve as Strategies Director of Education.
Centerbrook, CT (PRWEB) February 25, 2015
Strategies, a leading coaching and training firm that teaches how to grow successful salons and spas, has announced the promotion of Kristin Stutz to the position of Director of Education. Stutz began working with the company as a Certified Strategies Coach 2009, where her work included salon and spa seminar training, one-on-one coaching, online webinars and on-site training. She has a combined 22 years in the beauty industry, 13 of those as a former salon owner.
"Kristin's mastery of Strategies' management systems, as well as her passionate work ethic and beautiful personality, made her the perfect candidate for the Director of Education role," says Strategies Vice-president, Eric Ducoff. "She truly understands the challenges of running an employee-based salon or spa in today's business environment."
"I am honored to have the opportunity to serve as Strategies Director of Education." says Stutz. "It's my personal goal to continue Strategies' pedigree of providing the best in salon and spa business education."
As Strategies Director of Education, Stutz will be responsible for content development and curation across Strategies' seminar and webinar divisions, as well as content creation for the annual Team-Based Pay Conference. She will also be responsible for educator training, assignments and certification.
For more information, please visit http://www.strategies.com/kristin-stutz
About Strategies
Founded in 1993 by Neil Ducoff, Strategies' seminars, consulting and coaching services have helped thousands of salons, spas and medspas increase their levels of productivity, profitability and efficiency. The company offers one of the most expansive business education portfolios in the professional beauty industry, including the Incubator Seminar, Salon/Spa Game-Planning Retreat, Front Desk/Call Center Training, Salon/Spa Manager Course, The Team-Based Pay Conference, Webinars and more. Certified Strategies Coaches throughout the country provide individualized on-site seminars and phone coaching. Strategies Membership Programs offers access to all these resources for one monthly low fee — including access to the Strategies Command Center - the first cloud-based coaching system for salons and spas.