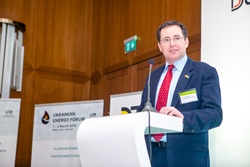 I have had the pleasure of attending events run by Stephen and his team on numerous occasions in the past and these always provide great insight and networking opportunities. Timothy Ash, Head of CEEMEA Strategy at Nomura International
Zurich & London (PRWEB UK) 18 October 2016
Strategy Council today announced its launch as a business information and networking hub with a specific focus on emerging European economies. The Council's debut event, focusing on shareholder value and corporate governance at listed groups from across the region, will take place in London on December 2.
Annual industry-leading conferences will form an impartial platform that enables communities to develop and grow and provides invaluable access to real-time, unique and business-critical information. Year-round contact will be driven by shared insights, expertise and editorial contributions from respected business leaders and government officials in each community.
Strategy Council's Founding Partners are Stephen Butler, a 20-year veteran and pioneer of the business information and networking space in emerging Europe and Natalya Zubova, whose diverse 10-year career has included the VC and start-up space in Zurich, a FTSE-100 business intelligence provider and management consulting for GlaxoSmithKline.
Natalya Zubova said: "To succeed in business in European emerging markets, it is vital to receive timely and accurate information and to establish a close-knit network of contacts and advisors. Strategy Council's mission is to provide its clients with a platform to develop the right balance of knowledge and networking."
Stephen Butler added: "From our more than 30 years of combined experience we can see a clear need for a new offering that marries market-leading business events with ongoing access to trusted contacts and advice. This is exactly what Strategy Council has been formed to achieve, and we are excited about this opportunity to bring together some of the best brains from across emerging Europe for our debut event in London, the continent's financial and advisory capital."
About Strategy Council's portfolio
On December 2, leading LSE-listed groups and their advisors will gather in London for a one-day forum: The Outlook For London-Listed Emerging European Groups: Focus On Shareholder Value And Corporate Governance. Panellists include shareholders and senior management from KAZ Minerals, Proxima Capital Group, Volga Gas, Ovoca Gold, JKX Oil & Gas, Active Energy Group, Work Service and the UK Financial Reporting Council. They will address the challenges facing emerging markets companies with their listings and meeting post-IPO marketing expectations, such as the recent wave of shareholder activism, corporate governance issues and bridging the cultural gaps between domestic market practices and international investor expectations.
The event enjoys the active support of EM, the leading financial and strategic communications agency specialising in emerging markets.