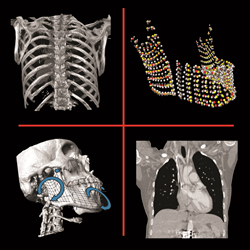 "Physicians need tools that help them move patients through faster and improve patient care," said Jim Olson, CEO, Stratovan Corporation.
DAVIS, CA & CHICAGO, IL (PRWEB) November 29, 2014
At RSNA 2014, Stratovan Corporation, a leading developer of next-generation interactive visual analysis software for 3D imaging, today announced the launch of Checkpoint™ for medical imaging. A set of state-of-the-art 3D shape analysis and visualization tools, Checkpoint speeds patient evaluation for radiologists, technicians, physicians and other healthcare professionals by giving them better views and a deeper understanding of 3D anatomic structures.
Designed to improve diagnostics and surgical planning, Checkpoint provides 3D views of CT, MRI, PET and other 3D scans from a variety of modalities – including 3D surface scans. It enables the efficient collection of thousands of landmark points to provide precise analyses of complex 3D shapes. Checkpoint also provides full 3D reconstruction that healthcare professionals can easily slice through for orthogonal and oblique views. It can load both surface meshes and volumetric DICOM scans and extract multiple surfaces from a DICOM volume.
Checkpoint's landmark editing interface allows users to quickly place single points, curves and patches to represent even the most complex tissue morphology. A custom tool in Checkpoint analyzes joint surfaces for congruence and/or changes due to treatment or disease. The landmark points can be used for shape modeling, geometric morphometrics and are exportable to popular statistical shape analysis software tools or custom software.
"Checkpoint builds on decades of shape analysis methods developed for physical anthropology," said David F. Wiley, Founder, President and CTO of Stratovan Corporation. "The capabilities we've brought to healthcare empower medical imaging professionals to more easily view, manipulate and precisely measure any anatomic feature. This is useful to better understand and more quickly – and accurately – diagnose patients. Equally impressive, and important to cost-conscious healthcare organizations, is the fact that Checkpoint delivers superior shape analysis tools and 3D views for only $499, a fraction of the cost of competitive solutions, which typically cost as much as $20,000 to $80,000."
"Stratovan's Checkpoint 3D imaging system could provide a way to effectively determine how the temporomandibular joint changes in development and disease," said Arthur J. Miller, Ph.D., Professor, Orofacial Sciences and Physiology, University of California, San Francisco. "For my research, it offers a new and exciting approach to quantitatively evaluate the shape of the TMJ, and evaluate the shapes of the articular eminence and condyles and the space between them. Checkpoint is a powerful tool for medical imaging and research."
Stratovan Checkpoint™ is the perfect tool for:

Surgical planning research
Medical visualization and analysis
Treatment planning research
3D morphometric analysis of anatomic structures
Image processing
3D surface extraction from 3D DICOM data
Computer-aided diagnosis research
"Physicians need tools that help them move patients through faster and improve patient care," said Jim Olson, CEO, Stratovan Corporation. "Checkpoint delivers this and lowers healthcare costs while improving patient care. It offers a 3D shape analysis tool that is superior to anything else on the market, and at a more palatable price point."
Stratovan will demo Checkpoint at booth #2974 at the Radiological Society of North America's 100th Scientific Assembly and Annual Meeting (RSNA), taking place November 30 through December 5 in Chicago, Illinois. All Stratovan software products are built on the company's proprietary imaging platform, Stratovan Encircle™. The platform harmoniously combines interactive 3D methods for geometric modeling and visualization with intuitive user interfaces, to generate high-quality 3D images. Checkpoint supports all current versions of Windows, including 7 and 8. A free trial of Stratovan Checkpoint Medical (32-bit or 64-bit) is available for direct download at http://www.stratovan.com.
About Stratovan Corporation
Stratovan is a leading developer of next-generation interactive imaging software for the global medical device and diagnostic markets. The company's solutions have broad application to disciplines beyond healthcare, such as anthropology and airport security. Recently, Stratovan was awarded a contract by the Transportation Security Administration (TSA) to apply its underlying technology to develop an enhanced automated explosive detection capability for computed tomography (CT) checked-baggage screening systems. An additional contract was awarded to facilitate standardized information exchange formats and communication protocols for airport security devices. Stratovan was launched in 2005 out of the Institute for Institute for Data Analysis and Visualization (IDAV) at the University of California, Davis. For more information, please contact Stratovan by calling (530) 746-7970, via email at support(at)stratovan(dot)com or visit us online at http://www.stratovan.com, follow us on Facebook, Twitter or Linkedin.