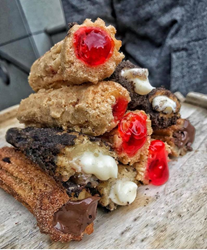 MONTEREY PARK, Calif. (PRWEB) July 15, 2019
Brothers James and Danny Shin had no previous entrepreneur or restaurant experience; however, that didn't stop them from opening their own Street Churros retail location earlier this month.
James was a news reporter with aspirations of owning his own business. Danny was a dental hygienist, natural born chef and huge foodie. Both feared working for others until retirement. So, they took a chance on their big dream together.
The brothers began their foray into the gourmet treat business when they purchased a Street Churros truck from the franchise in June 2018. Shortly after they began servicing a bevy of clients including the Criminal Minds television show set, anime conventions, and professional sporting events.
By the end of 2018 they knew the business was something special. The brothers, along with Danny's wife Julie, decided that her next step would be to open a physical retail location and that's where the SBDC came in.
"We found a retail space in a mall, but we were feeling a lot of pressure from the owner and leasing agent to sign contracts that were asking way too much. I had a strange feeling that we were about to be taken for a ride and that's when I reached out to the SBDC for help," Julie said.
Julie contacted OCIE SBDC Network business consultant Craig Russom for help with the lease negotiations. Craig brought in fellow SBDC consultant, Karie Armstrong, who is a lease contract specialist with over a decade of experience.
"Karie and I were able to put together projections that showed how much it would cost for the business to operate within the proposed space. The landlord was asking them to pay for all these things like upgrading the electrical system and extra storage fees. The deal would have buried the business before it started. Luckily, they had the courage to walk away and look for a better location," Craig said.
In the end the Shins were able to find a better location and lease for Street Churros in the Atlantic Times Square shopping center anchored by an AMC movie theater in Monterey Park.
"The SBDC helped us find a retail space that required much less expensive upgrades. We took over the previous tenant's existing lease and Craig and Karie helped us negotiate a much better deal than if he had gone it alone," Julie said.
Street Churros opened their Monterey Park location on July 6th just in time for summer. The sweet shop, selling churros, ice cream, coffee, and fruit drinks has already received dozens of glowing Yelp reviews from happy customers.
So far, the most popular menu item is the Oreo churro. Although Julie admits that their Honey Nut and strawberry jam filled churros are two of her personal favorites.
Craig says the key to success for would-be entrepreneurs is to seek help from groups like the SBDC as early on as possible.
"The sooner people contact the SBDC, the sooner we can help them avoid pitfalls and uniformed decisions that can drown their fledgling business. We have over 100 consultants with expertise in all areas of running a small business. We're always here to help."
You can find out more about all Street Churros and their delicious menu at StreetChurros.com. You can taste one of their delicious treats for yourself at their new retail location at 500 N Atlantic Blvd, Suite 121, Monterey Park, CA 91754.
Follow them on Instagram at their handle @streetchurros.montereypark.
Street Churros Grand Opening Information
On behalf of the Orange County (SBDC) and our partners, we invite you to join us in celebrating the grand opening for one of the newest sweet shops in Monterey Park. The grand opening will be held at 11:00 a.m. with a ribbon-cutting ceremony and special remarks from elected officials!
Friday, July 26,2019
500 N Atlantic Blvd, Suite 121, Monterey Park, CA 91754
RSVP: https://gostreetchurros.eventbrite.com
For additional information about how to request a no cost, no catch appointment with the SBDC or register for an upcoming business workshop please visit: ociesmallbusiness.org or contact us at 1 (800) 616-7232.
The Orange County Inland Empire Small Business Development Center Network (OCIE SBDC) offers no cost business consulting and low-cost training to current business owners and aspiring entrepreneurs throughout Orange, Riverside and San Bernardino counties. Our team of consultants is ready to assist in a variety of areas like: start up assistance, debt and equity funding, attracting and retaining customers, international trade and technology commercialization. For additional information contact us at 1 (800) 616-SBDC (7232) or http://www.ociesmallbusiness.org.
The OCIE SBDC Network is hosted by California State University, Fullerton and funded in part through a Cooperative Agreement with the U.S. Small Business Administration. All opinions, conclusions, and/or recommendations expressed herein are those of the author(s) and do not necessarily reflect the views of the SBA. All programs are extended to the public on a nondiscriminatory basis.