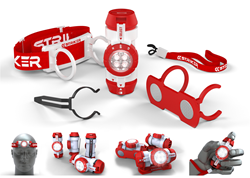 Most versatile task light found on the market today!
Mooresville, N.C. (PRWEB) July 16, 2014
Striker is proud to announce their latest innovation, the Capsule Four in One Task Light. This multipurpose light can be transformed into four different types of essential lights when attached to one of the four multi-functional accessories. It is one of the most versatile task lights found on the market today.
The Capsule is a powered LED module that can be used alone or in coordination with one of its four accessories. Attach the Capsule to the contoured 7/8" head strap, and it functions as a headlamp that can rotate 180 degrees to light any crawlspace, engine bay, or campsite while keeping both hands free for use. The magnetic base enables the Capsule to rotate, lock, and aim light, hands-free, in any direction while it is magnetically attached to a ferrous surface, or simply resting on non-magnetic surfaces. Stick the magnetic base to the hood of a vehicle to shine light on an engine bay, or rest the stable base on the bottom of a kitchen cabinet to shine light upwards when trying to repair a leaky pipe. The spring steel clip attachment allows the user to clip it to a belt, pocket, or tactical vest to function as a right-angle work light. It can also be attached to gear or backpack straps to project light all around when hiking. Finally, the lanyard accessory secures the Capsule to the user's wrist, allowing it to rest snugly in the palm, so the user can comfortably aim light and easily adjust light output with thumb and forefinger control. This compact, hand-held option transforms the Capsule into the perfect light for walking the dog after dark, or the "go-to" emergency light in the car or a purse.
HVAC business owner, Frank Nores said, "My Capsule is great on the job, I never know if I'll be climbing up or crawling under, but the hands-free Capsule goes with me. It's handy around the house too. The Magnet is great for working on my truck and as extra light in my garage. I even use it as a handheld flashlight to let my dog out a night."
The Capsule boasts a large rotary switch, which is centrally located and easy to grip and twist making the Striker light extremely user friendly, even when wearing gloves. The Lumen Tech LEDs produce 60 lumens of wide-angle light, allowing this compact light to illuminate your entire workspace. It will shine a wide, bright light into even the tightest of spaces! Whether the user is a do-it-your-selfer, camper, hobbyist, cyclist, or weekend warrior, the Capsule has the functionality needed for the task at hand.
The Capsule Four-in-One Task Light is available now at a MSRP of $24.99. For additional information, pictures, and demo videos, please visit http://www.StrikerHandTools.com or call 704-658-9332. (Note: Editors can download high resolution images & press releases at: http://www.striker1.com/press_2.html).
Striker's goal is to provide customers with the most innovative design solutions to accomplish tasks with ease and convenience.
####