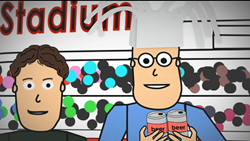 There's a new cheese in town. It just happens to be on our heads and holds 2 beers and a flask
Minneapolis, MN (PRWEB) January 30, 2015
"I had the idea 21 years ago, but got sidetracked. After the loss of the NFC Championship game, I thought it was time to resurrect the String Cheese Hat idea. We Packer fans will pick ourselves up again and follow our Packers into battle again next year – this time armed with another cheese hat in our arsenal," said Spafford.
The String Cheese Hat will not be your mother's String Cheese Hat. The hat is touted as "Holding two cans, one flask and your head." Spafford said he thought about adding a place to keep a pressure gauge, in case the Packers play the New England Patriots. But he opted to let the officials monitor the air pressure of balls. The Chicago Bears fans may need to get something other than a cheese grater. This is a cheese hat that peels.
The String Cheese Hat will be 18" tall and white. The sides will peel down, like string cheese, to provide easy viewing by fans seated behind the hat. In the base of the hat there will be a space to hold two cans (type of beverage is left up to the fan). There will also be a space for a flask (this space could also be used for a wallet or a healthy snack bar). The technical jargon for this space is the "Flask Hole".
Kickstarter is the popular crowd funding site where people raise money for a variety of projects. The String Cheese Hat project has very modest goals. The funds raised will go towards fine tuning the prototype, beginning manufacturing and legal fees.
For pledging amounts from $5 and up contributors will take away rewards. Some rewards are a Customized "Wisconsin Warming Solution" Flask for $15, a Blaze orange logoed hoodie (and flask) for $25 and flask, hoodie and a String Cheese Hat for $50. The goal is to ship all products, including the String Cheese Hats, for the 2015 season.
After the initial Kickstarter program, Spafford said that 10% of all profits from sales of the hats will go to the SE Wisconsin chapter of the Alzheimer's Association. To learn more about the project or to watch the animated video about it, visit https://www.kickstarter.com/projects/4531015/string-cheese-hat