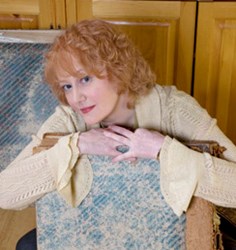 It's a pretty universal dream among the loved ones of dementia patients. Your every wish is to get them back, just the way they were.
Redwood City, CA (PRWEB) October 29, 2013
When author Helen Stringer walked away from the television business to concentrate on writing children's fantasy, she had no idea that a family tragedy would make her return. "People deal with sadness in different ways," she said. "My way has always been to tell stories." The author of the ghostly novels Spellbinder, The Midnight Gate, and The Blood Binding found solace in creating another ghost story, The Gloaming, as she watched her father disappear into dementia. Now she is raising the funding to produce The Gloaming via crowdfunding site Kickstarter.com.
"There are so many families going through the same ordeal," said Stringer. "It's hard to watch a loved one slip away before your eyes, and no matter how many books you read in an attempt to prepare yourself, nothing alleviates the pain."
For Stringer, it was her father's decline that made her start thinking about The Gloaming. A prominent scientist, John Stringer was an international expert in his field. He was also a lifelong fan of science fiction, something which rubbed off on his daughter. Stringer notes that her father was always there when she needed technical help or feedback, but his decline was rapid.
"In most cases, people with Alzheimer's Disease and other forms of dementia live for many years, but my father's disease was accelerated by numerous seizures. It took just 18 months for him to become almost totally unresponsive."
Stringer says that sitting in his room, it is difficult to believe that it is the same man. She began to think about ghosts and to wonder if people who are not dead but lost, whether to AD, coma, or some other cause, have watchful spirits as well. Ghostly versions of their earlier selves, waiting to be free. She started to write – imagining the feelings of that other self as it looks at the fading man in the bed.
"I recorded an actor, Greg Albanetti, reading the first chapter," she says. "I posted the result on YouTube and almost instantly received a call from an old friend who had moved to the East Coast. I was unaware at the time that her husband had recently been diagnosed with early onset Alzheimer's Disease and both her parents were in the advanced stages. She told me that the recording made her cry, and that she'd listened to it three times already."
Stringer notes that she was surprised by the response as most of the ghosts in her stories are pretty cheerful, and The Gloaming is no different in that regard. The story features the ghostly version of what she refers to as "the man in the bed" becoming real, and Stringer suspects this is where its appeal lies – in the idea that it might be possible to get someone back.
"It's a pretty universal dream among the loved ones of dementia patients. Your every wish is to get them back, just the way they were."
Once she realized that the story of The Gloaming had appeal beyond immediate family and friends, Stringer decided to bring it to a wider audience. Although she had not been involved in the entertainment industry since the sale of her first novel, Stringer saw The Gloaming as a story that needed to be told with the kind of immediacy that only film can provide. She also notes that she has been following the development of web series from simple comic sketches to fully rounded stories with interest.
"The brevity of the episodes is one of the web series' greatest assets," she points out. "It allows stories to unfurl rather than race along at the breakneck pace we're so used to these days."
The budget of $80,000 is relatively high for a web series, but Stringer wants The Gloaming to have the same production values as the best television dramas.
"The web series isn't a lesser form of TV," she notes. "Any more than TV is a lesser form than film. Each is suited to a different style of storytelling, which, for me, is the most important thing."
Helen Stringer's The Gloaming Kickstarter project runs through November 17, 2013 4:06 PM EST. If the goal isn't reached by that time, no funds will change hands. Those interested in supporting the project should visit http://bit.ly/gloamingseries to find out more and listen to the recording that started it all.
Kickstarter Link: http://bit.ly/gloamingseries
Series website: http://www.helenstringer.net/gloaming
Facebook: https://www.facebook.com/gloamingseries