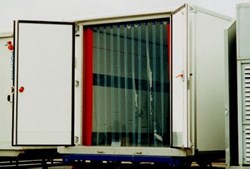 1 year ago we added many new products to the website. Out of all the products we added, the delivery struck strip door was most popular
Nashville,Tennessee (PRWEB) August 27, 2013
Today is the one-year anniversary of a very popular product offered at A Plus Warehouse. This product is the delivery truck strip door. This is why the company is naming this item product of the day. A Plus Warehouse uses product of the day as an opportunity to emphasize different products the company has to offer. Customers always enjoy learning about new products that they didn't even know were available. Ever since the delivery truck strip door had been added to the website, it was an instant hit. According to Ed Stairman, president of A Plus Warehouse, "1 year ago we added many new products to the website. Out of all the products we added, the delivery struck strip door was most popular."
As Ed mentioned, this product was added with many new products. All of the products added were strip doors. Although the delivery truck strip door is the most popular, the other products are great as well. Products in the strip door section include but are not limited to personnel strip doors, forklift strip doors, high wind strip doors, and bulk rolls. When ordering a strip door, customers have many options. First of all, customers must consider the thickness. Having .180 thickness is ideal for people but unsuitable for forklifts. On that same token .250 is ideal for forklifts but not so much for people. This feature goes hand and hand with overlap. More overlap is perfect for forklifts where less is more suitable for people. Every customer has different needs and A Plus Warehouse takes pride in fulfilling these needs. If customers need help deciding what type of strip door to order, they shouldn't be afraid to ask. A Plus Warehouse sales people do not bite!
It is now time to discuss the best strip door of all, the delivery truck strip door. This product prevents 80 to 90% of air loss. It also prevents spoilage by maintaining temperature. Every trucker needs a delivery truck strip door. Standard strips have temperatures ranging from -10 to 150 degrees. However, low temperature strips are also available. These strips range from -40 to 150. Customers should order their delivery truck strip door.
A Plus Warehouse is the operator of http://www.apluswhs.com and distributes materials handling and storage equipment nationwide and throughout Canada. The sales staff at A Plus Warehouse is available at 800-209-8798. A Plus Warehouse has been in constant operation since 1996.