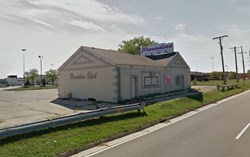 Appleton, WI (PRWEB) December 05, 2013
Located in the shadows of one of Wisconsin's largest shopping malls, the former Paradise Club has sold prior to its December 14th auction to local commercial Real Estate developer Bob Gregorski.
As of Monday, the well-known gentlemen's club has closed its doors. Gregorski plans to demolish the current building once plans for the new site are approved by the town of Grand Chute. Gregorski has yet to release his detailed plans for future redevelopment. However, according to the Appleton Post-Crescent, he does plan to "replace the building with something more beneficial to the community." With this, comes great joy for many area residents who have been anticipating the redevelopment of the site for many years.
"The property has been in the sights of many area developers for years. Properties of this size and location are hard to come by in the area," stated Wade T. Micoley, President of the listing broker firm Micoley.com. "We were very happy to expose the property and give a fair chance to all who were interested in purchasing it. Mr. Gregorski has a great reputation for adding quality developments to the area and we look forward to seeing what he will bring," also stated Micoley.
Built in an undeveloped area in 1940, the now high profile commercial spot in full view of Highway 41, is a massive opportunity for Gregorski to capitalize on the building's attention-grabbing location. Needless to say, the spot is well-known to residents.
The lot is located across from the Fox river mall in an area that houses such a wide range of residents and sees enormous traffic from all over the state. A well-advertised establishment of any sort would almost certainly be profitable in this location.
Final sale of the property to Gregorski closed with an accepted offer of $775,000, on November 22. The club's former owner, the Hassel Living Trust, listed the property with Micoley.com in hopes to bring the property out of foreclosure, which, that it did.
The seller has also listed 6 other properties, scheduled to be part of Micoley.com's 138 property auction on December 14. These properties include two former taverns in high traffic areas, a motel along Highway 41, 2 multi-family properties and a single family residence.
Those interested in the Paradise Club, and all other properties up for auction, should visit http://micoley.com for full property details and photos. 1-866-371-3619 is Micoley.com's information line. Additionally, Micoley.com features a live chat service through which questions can be answered.
Green Bay, WI-based Micoley.co is a Real Estate marketing firm specializing in project focused auction of bank-owned properties throughout the United States. The Micoley approach to Real Estate marketing tailors each auction plan to the client's individual needs. The site is constantly being updated for the benefit of buyers, as large scale auction events are held monthly, and new properties are added daily. Auctioneer Firm: Micoley.com #432-53. Auctioneer Rick Roundy #2475-052. Broker Firm: WM Enterprises, Inc. #835181-91. Broker: Wade T. Micoley #43427-90.