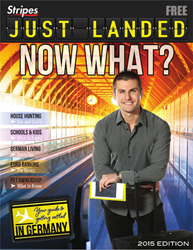 Kaiserslautern - Germany (PRWEB) May 07, 2015
U.S. servicemembers and civilians just arriving in Germany often feel overwhelmed, excited and scared. The 2015 Stripes Just Landed is available now to help ease the transition for those who are just getting settled into their new duty station.
This free print and digital publication is easy to understand and packed with 48 pages of essential information for U.S. service members, civilians, contractors and family members new to Germany. This issue features everything you need to know about:

European banking, bill pay and utilities
Street legal: Getting a license and car
Finding a house and services
Healthcare how-to's: On and off base
Information about DODDs-Europe, German schools and daycare options
Pet ownership overseas
Employment, volunteer and continuing ed opportunities
Discover Deutschland: Adjusting to a new culture
Valuable contacts, resources and checklists
The 2015 Stripes Just Landed is available at local Exchanges, Commissaries and various local airports, or it can be read online.
-----------------------------
About Stars and Stripes:
Stars and Stripes reports on military matters as the only independent source for news and information operating inside the U.S. Department of Defense that serves the global U.S. military community. Editorially independent of any outside interference and influence, Stars and Stripes provides commercially available U.S. and world news and objective, factual staff-produced stories relevant to the military community it serves.
In addition to providing news in print, Stars and Stripes offers its unique reporting on stripes.com, mobile apps and through our email newsletters. Get regular updates with a subscription to Daily Headlines, Weekly Updates, Stripes Opinion, Veteran's News, or Military History newsletter. For unlimited digital access, visit Stripes.com/digital.