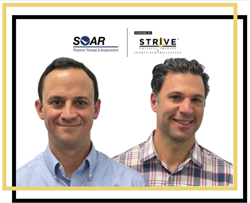 In the years to come, accommodating the vast growth and volume of musculoskeletal and chronic pain patients requires proven, hands-on partnerships and we believe S.O.A.R. are perfectly aligned to answer the call.-Erich Herkloz, CEO of Strive
LOUISVILLE, Ky. (PRWEB) December 20, 2021
Strive Physical Therapy and Sports Rehabilitation (Strive), a part of the Confluent Health family, is proud to announce their newest partnership with Shore Orthopedic & Athletic Rehabilitation (S.O.A.R. PT), a private and therapist-owned physical therapy practice located in Sea Grit, NJ.
"Since 1988, a core philosophy at S.O.A.R. has been to help our patients return to their normal activities as quickly as possible, at work and at home, fully functional and pain-free," said co-owners Nick Froio, PT, DPT, OCS, cert MDT, and Keith Montecalvo, PT, DPT, OCS, Cert MDT, SFM, in a joint statement. "Our team has consistently proven that state-of-the-art physical therapy practices combined with a culture of patient-education in prevention and movement management is essential for keeping our patients happy and healthy."
"We are very happy to partner with Erich at Strive and Larry at Confluent Health, who we see as leaders in our profession. Our values in excellence for both patient care and employee growth and satisfaction are in alignment. Keith and I are excited for the opportunity this partnership brings to our company and employees, so we can better serve our community," continued Froio and Montecalvo.
While patients will continue to see familiar faces at S.O.A.R. and be provided with the same services, the clinical team will gain access to the shared management services provided by Strive's parent company, Confluent Health. These services include efficient branding, marketing, and finance tools as well as continuing education programs and staff development opportunities such as Evidence in Motion, a nationally recognized physical therapy education program.
"We are proud to partner with S.O.A.R. and are eager to bring their commitment to clinical excellence on board," said CEO of Strive, Erich Herkloz, MPT, Cert. MDT, CSCS. "Nick, Keith and their entire team are going to add significant value as we grow together. In the years to come, accommodating the vast growth and volume of musculoskeletal and chronic pain patients requires proven, hands-on partnerships and we believe S.O.A.R. are perfectly aligned to answer the call."
"As a Physical Therapist-owned business, Erich and the entire team at Strive have mastered the integration of bringing together the best clinical talent and delivering the highest quality service and care excellence," said Confluent Health's President and CEO Larry Benz, PT, DPT, OCS, MBA, MAPP.
This partnership makes 30 Strive clinics across the northeastern United States.
For more information about Strive Physical Therapy please visit strivephsyicaltherapy.com. For more information about S.O.A.R. PT, or to meet with one of their expert therapists, please visit https://www.soarpt.com/.
###
About Confluent Health:
Confluent Health is a Louisville, Kentucky-based private holding company focused on creating a healthcare system that recognizes physical and occupational therapy providers as the Best First Choice for preventing and managing musculoskeletal and movement disorders. Confluent Health offers the following management services: evidence-based practice, patient loyalty, regulatory assurance, marketing and branding, clinic operations, hiring and retention, strategy, accounting and finance, and customer service to Advanced and Preferred Physical Therapy, Baton Rouge Physical Therapy-Lake, BreakThrough Physical Therapy, Capitol Physical Therapy, Colorado in Motion, Confluent Physical Therapy, El Paso Physical Therapy Specialists, the Evidence In Motion family of companies, Fit For Work, HPRC, Lake Center for Rehab, Mountain River Physical Therapy, OSPT, Pappas | OPT Physical Therapy, Physical Therapy Central, ProActive Physical Therapy Specialists, ProRehab Physical Therapy, PTPN, Redbud Physical Therapy, Rehab Therapy Works, RET Physical Therapy Group, SporTherapy, Strive Physical Therapy & Sports Rehabilitation, TOSPT, Texas Physical Therapy Specialists, Western Berks Physical Therapy and Wellness Group and Xcel Sports Medicine. Together, these companies share a common ownership team and are committed to developing a learning, purpose, and coaching culture.
About Strive Physical Therapy & Sports Rehabilitation:
Strive Physical Therapy and Sports Rehabilitation is a privately owned and operated physical therapy practice with clinics in both New Jersey and Greater Philadelphia. Their mission is to provide the highest level of care through clinical excellence and superior customer service. Services include sports medicine, work injuries, neurological conditions, occupational therapy and more. Since opening in 2005, Strive has been recognized as one of the best physical therapy providers in New Jersey, one of the best places to work and one of America's fastest-growing companies. For more information visit strivephsyicaltherapy.com