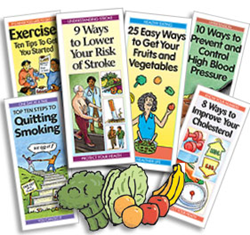 Help people turn information into action.
Santa Cruz, CA (PRWEB) May 20, 2014
A new study released by the American Heart Association concludes that eating more fruits and veggies can reduce the risk of stroke. To help people turn that information into action, Journeyworks Publishing offers their popular pamphlet 25 Easy Ways to Get Your Fruits and Vegetables as part of a Stroke Prevention sample pack. In addition to eating a produce-rich diet, other important ways to lower stroke risk include controlling blood pressure and cholesterol, not smoking, and being sure to get enough physical activity. Health educators and other professionals will find these topics and more covered in Journeyworks Publishing's easy-to-read pamphlets now being offered in the Stroke Prevention sample pack. Health promotion brochures make great take-home pieces for clients, or as giveaways at health fairs and other community awareness events. To receive this sample pack, visit the Stroke Prevention sample pack page and submit a request.
About Journeyworks Publishing
Journeyworks Publishing is a national health education and health promotion publisher with more than 10,000,000 pamphlets, brochures, booklets, posters, bookmarks, videos, digital pamphlets and other products distributed each year. Used extensively by public health departments, hospitals, schools, VA programs and more, Journeyworks materials are known for being creative, effective, easy-to-read and accurate. You can learn more by visiting http://www.journeyworks.com.