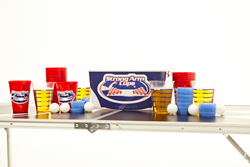 You will definitely be the envy of your next tailgating event with this beer pong kit.
Houston, TX (PRWEB) April 13, 2015
With just ten days left in its campaign, Strong Arm Cups is still available on Kickstarter. The campaign will be having flash sales that will make a Strong Arm Cups kit available at extremely discounted prices with free shipping for limited times. The campaign has a funding goal of $40,000 and will be running until April 24, 2015.
To give backers extra incentive in the final days of the campaign, Strong Arm Cups will be offering deeply discounted flash sales. These sales will be time-sensitive and offer Strong Arm Cups kits at discounted prices with free shipping. Backers can learn about these deals by following Strong Arm Cups on social media or by staying up to date with the Kickstarter campaign.
"These flash sales provide a great opportunity to secure a set of Strong Arm cups at a deep discount" said Jeremy Armstrong, the creator of Strong Arm Cups. "Hopefully these incentive opportunities will provide a strong spark to the campaign and help get us closer to bringing Strong Arm Cups to the manufacturing floor. You will definitely be the envy of your next tailgating event with this beer pong kit."
The Strong Arm Cups kit that's now available on Kickstarter includes 20 playing cups and dampers, four personal drinking cups and two ping pong balls. Players have their own individual drinking cup that they are responsible for during the entire game. The cups are transparent with clear demarcation lines to let players know exactly how much to drink each turn.
The playing cups each come with their own damper that eliminates the need for water or beer in the playing cups and ensures no spills or sloshing during gameplay. The entire kit is dishwasher safe and comes in a convenient carrying case, so it can easily go from party to party.
Strong Arm Cups is now available on Kickstarter with early bird prices as low as $20 and offers reward tiers for all budgets. For more information, visit Strong Arm Cups' Kickstarter page, or email mary(at)strongarmcups(dot)com.
STRONG ARM CUPS
Strong Arm Cups was created by Jeremy Armstrong, a family-man who has always had a passion for beer pong. After a year of design and engineering work this patent pending beer pong kit is ready to be brought to the party thirsty masses. Armstrong is looking forward to growing his business in the future and improve more drinking games. Learn more here: http://www.strongarmcups.com/.