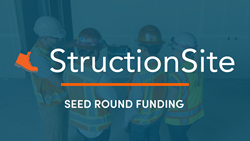 "One of our core values at StructionSite is 'express gratitude'. Now seems like an appropriate time to say thank you to those investors and customers who believe in our team." - Matt Daly, CEO, StructionSite
OAKLAND, Calif. (PRWEB) January 03, 2019
StructionSite Inc., a provider of intelligent construction management software, has raised its seed round of financing led by CEMEX Ventures. The series included several other leading firms, including Social Starts, WND Ventures and Obayashi Corporation, as well as several prominent owner/operator angel investors in the AEC space. The company will use the funds to grow both the Engineering and Customer Success teams as they strive to become best-in-class in reality capture, artificial intelligence, and overall customer experience.
StructionSite comes from humble beginnings as an idea Philip Lorenzo, now Chief Product Officer, pitched to Matt Daly, CEO, back in 2015. In his time working for a large general contractor, Philip had the first-hand experience with the problematic and manual processes of site documentation and the tracking of subcontractor installs. His idea was simple - rapidly digitize the physical job site with a 360 camera so project teams would have a virtual copy for documentation and collaboration. This concept has come to be known as the 'Digital Twin'.
"StructionSite brings automation and transparency into the industry, improving productivity, trust and coordination among the different stakeholders involved. By dealing with such a universal problem, the growth potential for the company is tremendous. This is the type of company we like to leverage at CEMEX, to which we can open our global network of clients and offer them this solution." -Gonzalo Galindo - Head of CEMEX Ventures
With the industry rapidly adopting its site documentation solution, StructionSite now aims to create even higher value for its customers by applying computer vision and machine learning technology to automatically detect installed work, creating brand new insights into production rates and contractor performance. Removing administrative action through automation allows project teams to focus on the job at hand, solve real problems, and push the schedule. Working closely with customers and partners for the last 18 months has led to the development of VideoWalk™ for automating site capture with 360 video, and now the newest production tracking product, SmartTrack™.
"One of our core values at StructionSite is 'express gratitude'. Now seems like an appropriate time to say thank you to those investors and customers who believe in our team. We feel we have the best of the best on this journey with us now, a perfect blend of industry knowledge and support in operational excellence. Most importantly, this group of investors shares our vision for building the next generation of construction management software, fueled by reality capture data and artificial intelligence, practical yet powerful. The future is bright and we promise to remain obsessively focused on creating value for our construction and real estate customers." - Matt Daly, CEO, StructionSite
About StructionSite
Contractors love StructionSite because they can 'walk the job,' even from the office. Owners love StructionSite for the transparency and professional offline handover deliverable. With tools like VideoWalk™ for automating site documentation with 360 video, tracking production on construction projects has never been easier. StructionSite is the #1 reality capture platform for Construction teams to improve processes, know when work is ready, and collaborate quicker.
http://www.structionsite.com
Media Contact: Kalyn Lengieza - kalyn+media(at)structionsite.com