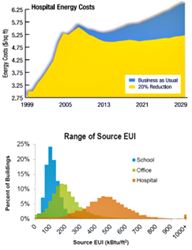 We are very excited to offer this comprehensive suite of energy management services to help hospitals cut costs without compromising quality of patient care.
Dallas, TX (PRWEB) April 30, 2014
Structure Energy (SE), SDVOSB, a national energy management and procurement firm, announces its enhanced suite of services for the healthcare sector, including its Energy Management System (EMS), Automated Demand Response (SmartADR), and its comprehensive Energy Procurement services.
Consuming 10% of the total energy used in U.S. commercial buildings, healthcare facilities are among the most energy-intensive buildings in the U.S., spending more than $8 billion on energy every year.
Hospitals today find themselves at the nexus of two of our nation's most critical realities: rising healthcare costs and rising energy costs. The business case for energy efficiency is compelling for hospitals, with energy costs representing one of the few cost centers that hospitals have significant control over.
Many healthcare facilities are seeking ways to cut energy costs while maintaining exemplary facilities. Over 50 healthcare facilities across the nation use our energy management system to monitor energy consumption, cost, and demand - from a corporate wide view, down to a specific meter.
"We are very excited to offer this comprehensive suite of energy management services to help hospitals cut costs without compromising quality of patient care," said Michael W. Miller, CEO. (Brigadier General, Retired) General Miller was formerly the senior health care administrator in the Air Force and was responsible for the execution of the Air Force Medical Service's $5.8 billion annual budget.
SE forges a broad array of energy data into usable, visible, and organized packets so you can focus on specific areas your business processes. No matter your goals, you need immediate access to accurate energy data so you can make quicker and better business decisions.
Understanding how each medical facility is being billed for energy is the very first step in effectively managing it. SE provides busy facilities professionals with the measurement tools to manage their utilities across the organization. We comprehensively manage your utility cost, usage, demand and other data to automatically generate reports to help identify savings. 
SE's system streamlines the data and invoice gathering process. The web-based energy management portal organizes, validates, and provides powerful reporting for all relevant energy and utility data. This utility bill management solution allows hospitals to:

Quantify Energy Efficiency Improvements; Lighting retrofits, HVAC commissioning, new medical equipment.
Audit Every Invoice; We've spotted more tariff, power factor, water leaks, and tax issues than we can count. 
Compare Multiple Facilities; How are you doing?  Start a competition.
Centralize Energy Cost, Usage, and Demand; Load factor, power factor and utility IDR data.    
Streamline AP Processing; After the invoice audit, we can assign GL codes and integrate with Accounting
Improve Sustainability Reporting; Easy to report on corporate GHG goals. 
Establish Scalable, Benchmarking Procedures; ENERGY STAR, ASHE, Better Buildings Challenge
Drive Continual Energy Performance Improvement
Structure Energy's advances in cloud-based technologies have made Automated Demand Response possible for hospitals. Structure Energy's proprietary SmartADR™ system monitors and responds to utility-sponsored events and generates significant financial incentives through automated curtailment.
In addition to their comprehensive suite of energy monitoring tools, SE stays abreast of important developments in the energy markets and advises customers of the optimal time to negotiate their energy contracts. Taking a strategic approach to the procurement process, Structure Energy finds hospitals the best combination of price and contract terms to meet their energy needs, using a competitive process that shops their usage to many qualified suppliers.
Structure is also a developer of advanced CHP technologies that deliver on-site power generation capabilities, capturing ordinarily wasted thermal energy for production of chilled water and steam or hot water—for the most economic, ecological, and efficient delivery of power, heat, and cooling available today.
To learn more email us at info(at)structureenergy(dot)com.