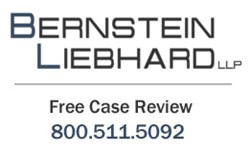 Our Firm is representing hundreds of people who suffered serious complications, allegedly due to defective hip implants, including those involved in the Stryker hip recall.
New York, New York (PRWEB) September 11, 2013
As Stryker hip lawsuit (http://www.stryker-rejuvenate-hip-recall-lawsuit.com) claims filed in the wake of last year's recall for Rejuvenate and ABG II Modular-Neck hip stems continue to mount in courts throughout the U.S., Bernstein Liebhard LLP notes that Consumers Union, the policy arm of Consumer Reports, has called for the creation of a "lemon law" for hip and knee replacement devices. According to a report posted on the Consumer Reports' website on September 10, 2013, such a law would guarantee that device manufacturers, like Stryker, would replace defective joints free of charge. According to Consumer Reports, data obtained from the U.S. Food & Drug Administration (FDA) indicates that over the past decade, every major manufacturer of hip or knee implants had recalled a product or line of products, some of which posed real risks.*
"Our Firm is representing hundreds of people who suffered serious complications, allegedly due to defective hip implants, including those involved in the Stryker hip recall. The idea for a lemon law as put forth by the Consumers Union is certainly intriguing, but when a hip or knee replacement is revised because of a recall, much more is at stake than simply the cost of the replacement. In the case of various recalls of metal-on-metal hips, patients are often left dealing with debilitating complications," says Bernstein Liebhard LLP, a nationwide law firm representing the victims of defective drugs and medical devices. The Firm continues to offer free Stryker lawsuit evaluations to individuals who have suffered serious complications, allegedly due to the Rejuvenate and ABG II hip stems.
Stryker Hip Recall
Stryker Rejuvenate and ABG II hip stems were subject to a global recall in July 2012, after post-market surveillance data indicated the metal components were prone to fretting and corrosion at the modular neck junction. By the time the Stryker hip recall was announced, more than 20,000 affected components had been sold worldwide. Stryker advised all Rejuvenate and ABG II recipients to undergo blood testing and cross sectional imaging, even if they were not experiencing any pain, swelling, or other symptoms, to ensure their artificial hips were functioning properly.**
According to court documents, hundreds of Stryker lawsuits have been filed since the Rejuvenate and ABG II stems were pulled from the market. Just over 300 such claims are now pending in a Multicounty Litigation underway in New Jersey's Bergen County Superior Court. (In Re Stryker Rejuvenate Hip Stem and the ABG II Modular Hip Stem Litigation, No. 296) In addition, nearly 200 Stryker recall lawsuits have been filed in a federal multidistrict litigation established in U.S. District Court, District of Minnesota. (In re: Stryker Rejuvenate and ABG II Hip Implant Products Liability Litigation, MDL No. 2441) All of the plaintiffs with claims pending in these proceedings allege that the metal debris shed from the recalled hip stems caused painful and debilitating complications, including metallosis, necrosis, osteolysis, and failure of the hip, which sometimes resulted in the need to have the defective components removed and replaced.
Patients who received Rejuvenate and ABG II hip stems may be eligible to file a Stryker hip lawsuit seeking compensation for medical bills, lost wages, and pain and suffering if they experienced any complications allegedly related to the Stryker recall. Learn More about the types of injuries that may be associated with devices involved in the Stryker hip recall at Bernstein Liebhard LLP's website. For a free case evaluation, please call 800-511-5092.
*consumerreports.org/cro/news/2013/09/replacement-hip-and-knees-need-a-lemon-law/index.htm
**literature.ortho.stryker.com/files/REJUV_COM_23.pdf
About Bernstein Liebhard LLP
Bernstein Liebhard LLP is a New York-based law firm exclusively representing injured persons in complex individual and class action lawsuits nationwide since 1993, including those who have been harmed by dangerous drugs, defective medical devices and consumer products. The firm has been named by The National Law Journal to the "Plaintiffs' Hot List," recognizing the top plaintiffs' firms in the country, for the past 10 consecutive years.
Bernstein Liebhard LLP
10 East 40th Street
New York, New York 10016
800-511-5092
ATTORNEY ADVERTISING. © 2013 Bernstein Liebhard LLP. The law firm responsible for this advertisement is Bernstein Liebhard LLP, 10 East 40th Street, New York, New York 10016, 800-511-5092. Prior results do not guarantee or predict a similar outcome with respect to any future matter.
###
Contact Information:
Felecia L. Stern, Esq.
Bernstein Liebhard LLP
info (at)consumerinjurylawyers(dot)com
http://www.stryker-rejuvenate-hip-recall-lawsuit.com