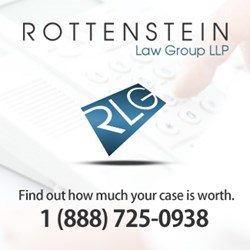 (PRWEB) July 26, 2013
The attorneys at the Rottenstein Law Group LLP, a Stryker hip law firm, announce the launch of the Stryker Lawsuit Center at http://www.stryker-lawsuits.com/, which provides information on side effects and lawsuits for those implanted with the recalled Stryker ABG II and Rejuvenate metal-on-metal hip replacements.
Both the Stryker ABG II and Stryker Rejuvenate hip implants were recalled in July 2012, because the modular necks on both devices were prone to fretting and corrosion, which could cause the patient's tissue to swell and become painful, according to the company's website.* There was also the risk of friction between the devices' metal components causing metal to flake off into the implantee's bloodstream. This could lead to metal poisoning (metallosis), according to the U.S. Food and Drug Administration.**
Plaintiffs have filed lawsuits with the Rottenstein Law Group LLP claiming that Stryker failed to warn them about the alleged potential dangers of the device, and are seeking compensation for unforeseen medical costs, pain and suffering and other damages. The firm encourages those who believe they have suffered from Stryker's alleged side effects to visit the website's FAQ page for quick answers to questions about the devices.
*stryker.com/en-us/products/Orthopaedics/modularneckstems/index.htm
**http://www.fda.gov/MedicalDevices/ProductsandMedicalProcedures/ImplantsandProsthetics/MetalonMetalHipImplants/ucm241766.htm
About THE ROTTENSTEIN LAW GROUP LLP
The Rottenstein Law Group LLP is a New York-based firm that represents clients nationwide in mass tort actions. The firm was founded by Rochelle Rottenstein, who has more than two decades of experience as a lawyer, to represent clients hurt by defective medical devices and drugs. (Attorney advertising. Prior results do not guarantee a similar outcome.)
Contact:
The Rottenstein Law Group LLP
Rochelle Rottenstein, Esq.
321 W. 44th Street
# 804
New York NY 10036
(212) 933-9500 (office phone)
(212) 933-9980 (facsimile)
rochelle (at) rotlaw (dot) com
###