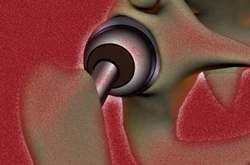 Attorney Goetz said that the damages suffered by Stryker Hip Stem patients may be even greater than those suffered by DePuy ASR patients.
San Diego, California (PRWEB) May 07, 2014
On July 6, 2012 Stryker Orthopeadics issued a Recall** for two of its artificial hip replacement systems:
1. The Rejuvenate Stem and Neck System; and,
2. ABG II Stem and Neck System.
Stryker stated that company data revealed the potential for their metal components to fret and corrode at the modular-neck junction.
Stryker also advised patients who had the recalled Stryker Hip Stems to see their surgeon to get blood tests to determine if they had elevated levels of cobalt, chromium and titanium and MARS MRI's.
Stryker reports that they, "have received reports of patients with mild or no symptoms that have tested positive for elevated titanium, cobalt and chromium metal ion levels or been diagnosed with adverse local tissue reaction." **
Attorney Goetz says that it is critical for people that have a Stryker Recalled ABG II or Rejuvenate Modular Hip System to know their rights and to understand that there is a LAW (statutes of limitations - SOL) that may prevent them from pursuing a legal claim and a monetary recovery, if they don't hire a lawyer and file a lawsuit SOON.
Attorney Dean Goetz says that Stryker has also retained Broadspire Services Inc. to handle claims from patients who are having problems with their Hip Stems. Broadpsire is the same company that is working for Depuy on their recalled ASR XL device, according to attorney Goetz.***
Attorney Goetz advises Stryker patients to talk to an experienced hip recall lawyer, like himself or John Gomez, before dealing with Broadspire. The people who have the Stryker recalled Hip Stems should know their rights before speaking to Broadspire or giving Broadspire an authorization to get all their medical records.
Attorney Goetz is taking Stryker cases on a nationwide basis and is answering questions regarding the recalled Stryker stems and the applicable SOL.
Attorney Goetz advises, Find out what your legal rights are as soon as possible. Some states have a two year SOL and the Stryker devices were recalled on July 6, 2012 so time may be running out for some victims in July 2014. Victims do not need to join a class action. They can retain their own attorney to handle their case, individually."
Learn more: go to sandiegopersonalinjuryattorney.pro OR gomezfirm.com or Call Dean Goetz @ 858-481-8844. Mr. Goetz is available to personally answer questions on a confidential basis.

Kranksy vs. Depuy and Johnson and Johnson, Los Angeles County Superior Court Case #BC456086.
[https://www.lasuperiorcourt.org/civilcasesummarynet/ui/index.aspx?CT=CI
** Stryker Recalled ABG II Modular and Rejuvenate Modular Hip Systems FAQs
[http://literature.ortho.stryker.com/files/REJUV_COM_23.pdf
***Reuter's News 2011 on DePuy retaining Broadspire to handle claims, "DePuy's handling of hip recall sparks questions"
***Stryker Statement on partnering with, "Broadspire Services, Inc., a leading third-party claims administrator, to manage requests for reimbursement of costs relating to the voluntary recall of the Rejuvenate and ABG II modular-neck hip stems."
http://www.stryker.com/en-us/products/Orthopaedics/modularneckstems/index.htm