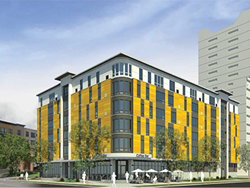 "Beginning as an initiative to provide University of Minnesota students with affordable housing, Riverton Community Housing focuses on promoting community-oriented and democratically run student housing cooperatives." ~ Community Wealth
Minneapolis, Twin Cities Minnesota (PRWEB) June 12, 2014
Popular Twin Cities residential neighborhoods for students seeking a place to call home while gaining an education include: Como, Dinkytown, Stadium Village and Uptown. Riverton Community Housing, owner of Chateau Co-op student apartments, recently requested permission to replace the Fourth Street Housing Co-Op apartment building at Fourth Street and 13th Avenue with a new six-story, 66-unit apartment building. If the "go ahead' is won, student's will benefit by expanded options for housing.
"Rental units that grant the opportunity to live in close proximity to the campus offer convenient housing for college students to make the daily commute to classes. Due to the high demand for student housing in Minneapolis, landlords have been known to over-rent the housing and students to over-fill them," says Jenna Thuening, owner of Home Destination. "Even when homes are rundown and in need of the owner's attention to upkeep, once better places are snapped up, the homes still rent out and without much of a price break."
According to the Business Journals' July 10 publication titled, Six-story apartment building pitched for Dinkytown, "The plan includes a 2,000 square-foot retail space on the ground level, as well as fitness center and bike room for residents". The proposal is the hot topic on the schedule for the July 14 Minneapolis City Planning Commission Committee meeting.
Concerning the supply of off-campus housing, Niche says, "Lots of amazing options if you don't mind paying a little more. Luxury apartments and more are being built currently. Also lots of houses for rent a little further off campus". Students should anticipate paying $550 a month for a studio apartment, an average of $700 for a one bedroom unit, 2 bedrooms run around $1,200, and for those who prefer sharing a home with several students, 4 bedroom homes are charging an average of $2,000 per month.
College Niche for University of Minnesota posted the following sketch of student housing in neighborhoods around the campus:
Undergrads Living Off Campus 79%
Freshmen Living Off Campus 14%
Average Off-Campus Room & Board $8,412
The Guide for University of Minnesota Parents names Rivertown as a leader in Twin Cities student housing for over 30 years with ideal locations central to the U of M, Augsburg and other Twin Cities universities. Students are urged to secure housing for this fall as soon as possible and may use the guide's comprehensive listing to gain a wide variety of options. Until more student is available, those who start planning their housing early will be glad they did so.
"The proposed apartments may be more expensive on average, but will offer additional attractive and livable conditions," adds Thuening. "Historically, Minneapolis real estate sellers who place their homes on the market within an easy commute to the University of Minnesota campus find high interest from students. If the price point is right, being on the direct bus route to campus or an within an easy walk, gives Minneapolis real estate sellers an advantage. With property prices on the rebound and a shortage of housing inventory, Twin Cities residential investors are seeking to make the most of every real estate opportunity!"
Home Destination is a 15 year veteran residential Twin Cities Realtor who helps homeowners through the process of selling or buying a home. For a complementary Minneapolis real estate seller's or buyer's consultation call 612-396-7832.