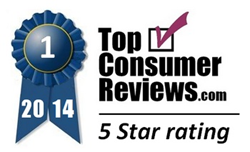 We appreciate the recognition by TopConsumerReviews.com and look forward to another successful year helping people get out of debt!
Overland Park, KS (PRWEB) June 26, 2014
TopConsumerReviews.com recently awarded their highest five-star rating to National Debt Relief, an industry leader in student loan consolidation services.
"We're excited to receive TopConsumerReviews.com's 5-star rating," said Daniel Tilipman, National Debt Relief's President and Cofounder. "At National Debt Relief we can help with just about any facet of debt. Credit cards, bank loans, student loans and more are all eligible for our programs. Our debt counselors are here to help with a free consultation and advice to reduce those monthly student loan payments and help you get back on track. Our comprehensive list of student loan consolidation services helps us provide the best financial move for each of our clients. We appreciate the recognition by TopConsumerReviews.com and look forward to another successful year helping people get out of debt!"
A large increase in annual tuition rates and a decline in available jobs has many college graduates drowning in debt. Many people in their 20's feel financially strapped from the burden of student loans and have nowhere to turn. Consolidating ones student loans can reduce the size of monthly obligations and allow that person to breathe again. The focus of a college graduate should be building their career and looking towards the future, not feeling financially strapped and hopeless. Student loan consolidation companies can be the ticket out of barely making ends meet. However, it's important to choose a student loan consolidation company wisely and find one that is upfront, experienced, and professional.
"National Debt Relief is the go-to company for student loan consolidation efforts," explained Brian Dolezal, of TopConsumerReviews.com. "This company has a long standing reputation of helping folks resolve a variety of different financial challenges. The same goes for helping young adults best manage their student loans. Reduced monthly payments and lowered interest rates are just two of the options that customers will find at National Debt Relief. We were also impressed with their Better Business Bureau rating and friendly customer service staff. National Debt Relief is a great place to get started on improving your overwhelming student loan debt."
To find out more about National Debt Relief and other student loan consolidation services, including reviews and comparison rankings, please visit the Student Loan Consolidation category of TopConsumerReviews.com at http://www.topconsumerreviews.com/student-loan-consolidation/.
About National Debt Relief
National Debt Relief helps consumers that are struggling with debt get relief via comprehensive solutions including debt consolidation, debt restructuring, debt settlement and debt negotiation. Backed by a strong reputation in the industry and over 7 years of experience, National Debt Relief offers top notch customer service and unparalleled debt relief results.
About TopConsumerReviews.com
TopConsumerReviews.com is a leading provider of independent reviews and rankings of hundreds of consumer products and services. From student loan consolidation to cash for gold and debt relief programs, TopConsumerReviews.com delivers in-depth product evaluations in order to make purchasing decisions easier.