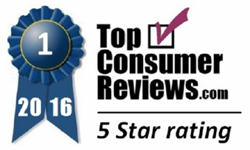 For all of these reasons, we are pleased to give SunTrust our top ranking among providers of Student Loans in 2016.
Overland Park, KS (PRWEB) December 02, 2016
TopConsumerReviews.com recently gave a best-in-class 5 star rating to SunTrust, a leading lender in the Student Loans market.
Student Loans make it possible for aspiring engineers, teachers, doctors and social workers to afford an education. With rising costs of tuition, room and board, and even textbooks, most students do not have the money in savings to cover their learning after high school. The average student has $40,000 in loan debt when they graduate, and without a student loan, that education would not have been possible. These days, the process of getting a student loan has been greatly streamlined by online providers of Student Loans. In just minutes, students can complete an application, find out how much they qualify to borrow, and compare a variety of loan offers from lenders in order to get the best possible terms and rates.
"SunTrust is a well-known provider of mortgages and other banking services, including Student Loans," explained Brian Dolezal of TopConsumerReviews.com, LLC. "Their two main student loan programs, Custom Choice and Graduate Business School, have some of the lowest interest rates available. We were also impressed by their rate reduction offers: 1% reduction of the principal balance upon graduation, up to 0.50% off for setting up automatic payments, and several seasonal offers of 0.25% reductions. Even more impressive is their compassionate approach to student loans: unlike some of their competitors, SunTrust offers loan forgiveness if the primary borrower dies or is permanently disabled. Cosigners can also be released after the first four years of consecutive, timely monthly payments. For all of these reasons, we are pleased to give SunTrust our top ranking among providers of Student Loans in 2016."
To find out more about SunTrust and other providers of Student Loans, including reviews and comparison rankings, please visit the Student Loans category of TopConsumerReviews.com at http://www.topconsumerreviews.com/student-loans/.
About SunTrust
SunTrust Banks, Inc. is a purpose-driven company dedicated to Lighting the Way to Financial Well-Being for the people, businesses, and communities it serves. Headquartered in Atlanta, the Company has three business segments: Consumer Banking and Private Wealth Management, Wholesale Banking, and Mortgage Banking. As of September 30, 2016, SunTrust had total assets of $205 billion and total deposits of $159 billion. The Company provides deposit, credit, trust, investment, mortgage, asset management, securities brokerage, and capital market services. SunTrust leads onUp, a national movement inspiring Americans to build financial confidence.
About TopConsumerReviews.com
TopConsumerReviews.com, LLC is a leading provider of independent reviews and rankings of hundreds of consumer products and services. From Student Loans to Credit Repair and Personal Loans, TopConsumerReviews.com delivers in-depth product evaluations in order to make purchasing decisions easier.