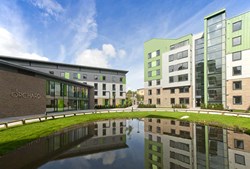 Student property on the other hand has proved to be as resilient to the downturn as the London property market.
(PRWEB UK) 26 September 2013
Analysts at Colordarcy say that the Knight Frank report confirms their view that student property is the best investment for buy-to-let investors outside London.
Commenting on the Knight Frank report, Loxley McKenzie, Managing Director of Colordarcy said, "Even as the UK property market starts to recover, there remains a two-speed property market where property prices in London keep on rising and outside London the price increases are more modest.
While the long term returns property investors can achieve on London property are virtually guaranteed. Outside the capital, the economic downturn has had a major impact on capital growth for traditional buy-to-let investors.
Student property on the other hand has proved to be as resilient to the downturn as the London property market. Purpose built student property close to campus in popular UK University cities continues represent an attractive alternative to London property."
Colordarcy analysts say that demand and a shortage of supply in many of the UK's university towns has underpinned the strength of the UK's student property sector and this is likely to continue as student numbers rise and the UK continues to struggle with a national housing shortage.
Colordarcy highlight research from Savills which reveals that the number of full-time students in higher education grew by 540,000 between 1999 and 2012. This represented an increase of 46%.
The UK is also welcoming overseas students in increasing numbers. European and overseas students now make up a sixth of the UK student population a figure which is likely to increase according to the Knight Frank report.
According to Colordarcy, the best cities to invest in student property will be those that strike the right balance between the price of property, rents and the quality of courses on offer.
Several of the tier 3 universities in the UK are now attracting students in increasing numbers. For example, domestic student numbers increased at Bradford University by 7% in the year to 2012 (Source: Savills, 2013).
Colordarcy are currently offering investors the opportunity to invest in key-ready purpose built student accommodation in Bradford from £55,000 with 10% rental assurance for 2 years.
Notes to the editor:
Colordarcy is a leading property investment company that specialises in finding positive cash flow investment properties worldwide. Their aim is to provide their clients with properties that offer the unique combination of strong growth returns and cash flow positive income.
Investing in positive cash flow property significantly reduces the risk because the property will pay for itself regardless of market conditions, employment status or other financial commitments.
Colordarcy provides complete support before, during and after a sale, including finding tenants, financial assistance, viewing trips and currency services. Colordarcy are proud members of the 'Association of International Property Professionals' (AIPP), and abide by its code of conduct, one established to protect the buyer, by ensuring members follow professional guidelines and procedures.
Colordarcy investment property portfolio includes some of the best properties for sale in Brazil, Florida, Turkey and the United Kingdom.
For more information, supporting pictures or logo artwork, please contact:
Brett Tudor
PR Manager
Tel: +44 (0) 207 100 2393
Email: press(at)colordarcy(dot)com
Web: http://www.colordarcy.com/
Colordarcy Investment Ltd
28 Leman Street
London
E1 8ER