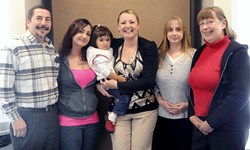 For the first time in my life, I feel that education is beneficial in nurturing my mind and soul and actually enhancing my life. Before I went to school because I had to; now it's something I crave.
Denver, CO (PRWEB) November 19, 2013
Nine years ago, Community College of Aurora Math Department Chair James Gray encountered a student with exceptional circumstances, if not an outstanding grade.
This particular student opted to help rebuild her life after her cancer-stricken husband died. Then, during her time at CCA, a Colorado community college, she experienced even more devastating loss when her daughter and the three children she was raising as a single mother all were killed in a car accident.
This particular student, despite the hand she'd been dealt, ended up working full time, going to school, and taking care of the grandchildren. She worked tirelessly just to earn a 'C' in the class, but given her backstory, CCA faculty were compelled to act in support of students who in many ways are more successful than others in other facets beyond earning higher grades.
The Student Success Awards help provide that recognition, and since its inception in 2006, has held a luncheon in honor of a couple hundred folks facing similar trials and tribulations, yet who managed to persevere.
"It's become for students who show some level of persistence overcoming obstacles. The idea is that they value education so much that they're willing to overcome these hurdles in order to get an education." Gray said. "They may not be successful in the traditional sense, which is GPA. But we wanted to recognize the sheer determination of these individuals."
Rep. Rhonda Fields, D-Aurora, will be the keynote speaker for this year's event, which will be held on December 6 from Noon-2 p.m. at the Student Centre Rotunda on CCA's CentreTech Campus. Fields was elected to the Colorado House of Representatives in 2010 after running on a platform of protecting the most vulnerable, promoting economic growth and education reform. She is the first African-American woman elected in House District 42.
Michelle Twaddell, a 2012 Student Success Award recipient, will emcee. Twaddell overcame an early life spent in jail and group/foster homes to continue her formal education and has since dedicated her future to helping youth offenders change their lives.
This year's collection of recognized students once again run the gamut of such personal travails interspersed with the inner strength to succeed.
There's the comeback of a woman diagnosed with a debilitating health condition that led to significant hearing loss; she is now on her way to her bachelor's degree. There's the native of Ghana who came to the U.S. with $100 in his pocket and now has been accepted to the Undergraduate Pre-Health Program at the University of Colorado Anschutz Medical Campus and earned a Kaiser Permanente internship on his path toward becoming a doctor.
There's the blind student from Iraq that shuffled from country to country trying to earn an education and landed at Community College of Aurora with help from a United Nations organization. Hard work and the help of equipment provided by the college's Accessibility Services department has allowed her to stay on track toward a masters in Psychology. She hopes to earn the degree to better communicate with others in a personal way and help them gain perspective in their lives.
And then there's the mother of seven who came back to school after motherhood and actually carpooled with two of her children to CCA. She was accepted into the college's Integrated Nursing Pathway with a 4.0 average and is well on her way to helping others.
"For the first time in my life, I feel that education is beneficial in nurturing my mind and soul and actually enhancing my life," said Ellis D. Davie, one of this year's Student Success Award recipients, who after a 13-year layoff from school and just getting by financially, is close to transferring to a four-year college to study Psychology. "Before I went to school because I had to; now it's something I crave."
Joining Davie among this year's award recipients are: Brenda M. Anderson; Mercedes M. Barksdale, Tony D. Briscoe; Jordan Buchanan; Idaly De Reza; Rogelio DeReza; Chandra Dhungel; Stephanie Doyle; Maria Alejandra Garibay Campos; Ashenafi Fantahun Gelaw; Reem Hamodi; Sarah Groves; Mara Koss; Desiree Michelle Lee; Alber R. Lima; Mary Anne Navarette; Lauren L. Nichelson; Bethany Rittenhouse; Ed Rummel; Chris Rummel; Justin Mark Singleton; Stephane Vahoua; Mahatani Anggraini Yusuf; Blessed Otabil, and Norman A. Kimbrough.
---
About CCA
Community College of Aurora has campuses at CentreTech and Lowry in the greater Denver area. Equipped with the latest technologies, CCA allows students to study new and traditional programs, while also offering Colorado online courses and degrees. CCA's service community spans 325,000 people in a 350-square-mile area and CCA's student population reflects that diversity. The college provides lifelong educational opportunities, prepares the current and future workforce, and promotes excellence in teaching, learning and service.