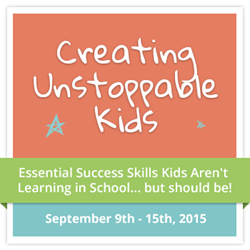 Many of the skills that students need to thrive in school – and in life – are not being taught in the classroom.
Atlanta, GA (PRWEB) August 27, 2015
Many of the skills that students need to thrive in school – and in life – are not being taught in the classroom. In a new interview series, Student Launch Pad will be featured as one of 21 leading experts who are coming together to reveal the key life skills that students need in order to thrive as adults.
Interviews from these 21 experts are a part of a free virtual conference, Creating Unstoppable Kids, which will be held from September 9-15, 2015. The conference is entirely online, so participants can listen wherever they are — from the comfort of home, at work, in the car, or at a soccer game.
Upon registration to this event, attendees receive a ticket to the online interview series, a printable PDF conference guide, a replay of each interview for a full 24 hours after it airs, and access to valuable gifts from all 21 guest speakers.
When so much time, energy, and emotion are being spent to prepare students for the future and ensure good grades, school involvement, and acceptance into great colleges, it can be worrying to see students…

Constantly feeling stressed out and overwhelmed
Having a hard time staying focused and motivated
Struggling with procrastination or disorganization
Suffering from low self-confidence
The Creating Unstoppable Kids free virtual conference is designed to teach parents and educators how they can help students learn these life skills and set themselves up for a lifetime of health, happiness, and success.
Student Launch Pad's founder, Stephanie Shackelford, is one of the 21 experts interviewed. Her interview will air on September 13th at 1pm ET, covering the topic of How Students Can Identity Their Best Fit Career Path:
Identify students' competitive advantage and strengths
Encourage students to put their strengths into practice toward future career options
Discover how a student's personality influences their career choice
Develop a plan for students to explore best-fit career options
Learn more about this free event at: Unstoppable Kids Event.
ABOUT STUDENT LAUNCH PAD
Student Launch Pad coaches high school and early college students to make the best decisions for their future based on the intersection of their strengths and passions. Through our one-on-one or online coaching programs, students are accepted to their dream colleges, choose their best major, and find their ideal career options. Student Launch Pad's sister company, Career Flight Plan, offers career coaching for college seniors, recent graduates, and working professionals. Through one-on-one coaching programs, clients develop a flight plan to navigate their best possible career future.