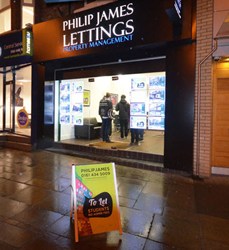 Long gone are the days of dingy bedsits and belligerent landlords.
Manchester , UK (PRWEB UK) 6 August 2013
Manchester based Letting agent, Philip James, prepares landlords to maximise their returns and minimise voids.
Decreasing university applications coupled with a demand for higher standards of student property are changing the Manchester student property landscape. Manchester's leading independent estate agent and letting agent, Philip James, have been working closely with student landlords for the last three years ensuring they are adequately prepared for the shift in the market-place.
Neil Ryder, http://www.PhilipJames.co.uk Student Manager is not only helping landlords evolve to meet the changes head on but to also have the added benefit of being able to increase yields whilst at the same time reducing voids.
"We knew that the recent increase of annual tuition fees to £9,000 would have a significant impact on the number of students enrolling. Manchester had the largest student density in Europe, so we had to take this seriously and advise our landlords accordingly. The changes were first brought in during the summer of 2010 and there were protests which were rife across the UK and especially so here in Manchester."
"Student property has always been one of Philip James's core products. I needed to speak to our landlord clients and develop a strategy to meet these changes. Over the summer, I met with most of our long term student landlords to devise a plan to survive. I must admit it was a nerve wracking time not only for us but for our landlords, too."
"Not only were student numbers dropping, but students were becoming much more discerning in the types of properties they now wanted. Those who could afford to pay the increased tuition fees were also prepared to pay higher rents for the right type property."
"This change became more pronounced during 2011 and 2012 which ultimately led to a 30% increase in student letting for our student property branch based in Withington. This was fuelled solely by our focus on premium managed student properties throughout Manchester."
"We work closely with landlords helping them improve their properties. Students now demand as standard newly painted properties, with modern furniture, good quality carpets or laminate flooring, flat screen TV's and free broadband. Those landlords who have changed are finding they are getting much higher rents which is great news for them."
"It's not just our landlords who are delighted with the changes, our students are pretty happy, too. We managed to create a perfect win: win scenario which is great news for all concerned.
If you own a student property in Manchester or are considering investing in one, why not call Neil Ryder who would be delighted to discuss how we can help you maximise your student property returns in Manchester.
For a no obligation chat, call us on 0161 434 5009 or email the branch on student(at)philipjames(at)co(dot)uk or visit our website http://philipjames.co.uk/students.