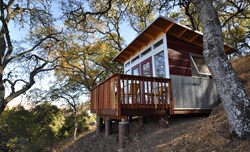 This is a milestone for us as a company
Louisville, Colorado (PRWEB) February 13, 2014
Studio Shed, a leading manufacturer of high-efficiency prefabricated backyard buildings, unveiled an industry-first 3D design, build, and buy tool on their website today.
Studio Shed's 3D "Configurator" allows customers to select from 28 different sizes, 700 individual wall elevations, over 5000 color combinations and multiple interior and exterior finishes comprising almost 100 million configurations of Studio Shed's signature backyard building. Customers can move windows and doors, build their model in 3D, and manipulate it within their web browser to view their Studio Shed at any angle.
"This is a milestone for us as a company," said co-founder Jeremy Horgan-Kobelski. "It's far more than just the technology you see in your web browser. It's the culmination of years of product development in our modular building system."
Studio Shed also added a turnkey ordering process for some of their most popular high-efficiency and green upgrades in the new "Configurator." Customers selecting Studio Shed's Lifestyle Interior package (http://www.studio-shed.com/products/signature-series) can add "green" features like recycled denim insulation and eco-friendly Cork flooring. A high-efficiency R-26 insulated floor system is also available in the "Configurator" for those using their Studio Sheds as offices, room additions, or other types of finished spaces
"From day one we've wanted to empower our customers by giving them the design tools. We're thrilled to take this live," said Jason Plumb, Studio Shed's VP of product development. "The back-end technology behind this is incredibly powerful. We're able to pull individual elements from thousands of files to dynamically build a virtually limitless number of Studio Shed building possibilities online and on the fly."
Ecommerce functionality was the final addition to the new "Configurator." After building their own custom Studio Shed, customers can choose installation and delivery options and place their deposit instantly, all from their home computer. For those not ready to order, a "Save to Wishlist" option will allow them to save their configurations and share with others. Once ordered, turn-around times for unpermitted projects average six to eight weeks. "The Configurator will have a huge impact on our own production and logistics," said co-founder Mike Koenig. "This is the next step in the evolution of our mass-customization process. All of the individual components in the Configurator have been thoughtfully designed to work together. The front-end customer experience is reflected on our end through detailed fabrication specifications. This results in improved quality in our factory, faster turn-around times for our clients, and a better experience from start to finish."
About Studio Shed
Studio Shed is a leading manufacturer of high-efficiency prefabricated backyard buildings based in Louisville, Colorado. The company's modular building system allows customers to create unique prefabricated structures used for everything from simple storage sheds, to home offices and studios, to poolside entertainment areas. Typically, an installation takes two to six days, depending on shed size. Studio Shed is committed to environmental stewardship and building spaces that are both healthy, sustainable, and comfortable. Every Studio Shed model is constructed from a variety of green building materials and options, including FSC-certified lumber, metals with high-recycled content, denim insulation, cork flooring and low-VOC paints. There are no dumpsters on Studio Shed sites. Shed construction waste usually fills a large garbage can, before it is sorted for recycling. For additional information on Studio Shed products, please visit http://www.Studio-Shed.com.