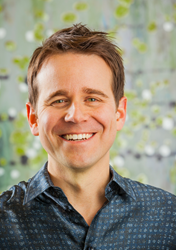 "At Studio Z Dental we are continually looking at how we can treat our patients in the healthiest manner," said Dr. Tom Zyvoloski of Studio Z Dental in Louisville, CO.
Louisville, CO (PRWEB) April 09, 2014
Studio Z Dental, a family-friendly general dental practice led by Dr. Tom Zyvoloski in Louisville, CO, is currently in the process of obtaining their Eco-Dentistry Certification, which will make Studio Z Dental the only general dental practice along the entire Front Range with an Eco-Dentistry membership and certification.
Integrating eco-friendly practices for the safety of both the Studio Z Dental team members and clients has long been a core element to Studio Z Dental's daily dentistry practice. For example, the Studio Z Dental office offers mercury-free dentistry, alongside some of the most up-to-date equipment such as the Swiss IQ Air purification system for mercury-safe silver amalgam filling removal. Studio Z Dental is considered "mercury-safe" (rather than just "mercury-free"), which means they follow the International Academy of Oral Medicine and Toxicology's (IAOMT) protocols to keep clients from being exposed to high levels of mercury that are released during the silver amalgam filling removal process. This is just one element of their holistic dentistry philosophy intended to keep clients as healthy as they can be.
For Studio Z Dental, becoming an eco-friendly dentistry office under the Eco-Dentistry Certification means incorporating even more eco-friendly practices to form a prevention and conservation stance. Specifically, the GreenDOCTM Dental Office Certification Program by the Eco-Dentistry Association (EDA) helps dentistry offices implement such eco-friendly initiatives within their location and community contributions, alongside their daily practices.
"At Studio Z Dental we are continually looking at how we can treat our patients in the healthiest manner," said Dr. Tom Zyvoloski of Studio Z Dental in Louisville, CO. "So when we moved our dental office last year to our new location; it was an easy choice to look at every material that was used in the construction process, to make sure it was the most eco-friendly and patient-friendly material we could find."
Eco-Dentistry Certified offices are required to complete a long list of changes from traditional dentistry practices to eco-friendly dentistry practices. This list includes not only patient practices, such as being mercury-free and non-toxic cleaning and sterilization techniques for equipment, but also building codes following LEED guidelines, going paperless in the office, and implementing sustainable energy practices and a recycling program, among other requirements.
The Eco-Dentistry Certification is different from other green business practices certifications, such as the local Boulder County program named PACE, which stands for Partners for a Clean Environment. While both certifications aim to help businesses reduce costs while integrating sustainable green practices to benefit themselves and their community, the Eco-Dentistry Certification goes several steps further as Jessica Gallagher from the Eco Dentistry Association explains:
"The GreenDOCTM Dental Office Certification Program was developed exclusively for EDA certifications as it was recognized that third party certifications are quite valued and provide a template for our members. With 180 initiatives over 8 separate categories, the Eco-Dentistry Certification encompasses all third party green verifications (such as for a green office, community leadership, etc.) and is specific to dental offices, not medical offices, veterinarian offices, restaurants, or anything else. This certification is the gold standard for dental offices."
With Earth Day in mind, Studio Z Dental will be the ONLY general dentist on the entire Front Range who is an Eco-Dentistry member and have an Eco-Dentistry Certification, and ultimately will be completing their PACE Certification as well.
Studio Z Dental in Louisville, Colorado is one of the few dentist offices in the Boulder area offering mercury safe holistic dentistry, family dentistry, and cosmetic dentistry, including teeth whitening. Studio Z Dental is located at 818 W South Boulder Rd, Suite 100, Louisville, CO 80027 and can be contacted at (303) 802-4313 or online at http://www.studiozdental.com/.