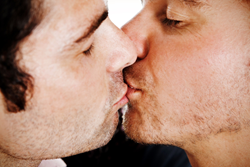 With 51 percent answering in the affirmative, gay men and lesbian women led all other groups.
Gainesville, FL (PRWEB) July 17, 2014
Having more than one partner in bed at a time can bring certain advantages and disadvantages, but how often does this actually happen?
A new study conducted by DatingAdvice.com found gay men and lesbian women are three times more likely than straight men and women to participate in this sort of activity.
Brian Rzepczynski, DatingAdvice.com's gay dating expert, said a three-way can add stimulation and spice to one's sex life, but prior forethought and planning is recommended to ensure it is the right decision.
"By assessing the motives and pros and cons, communicating with all parties involved about boundaries and expectations and engaging in conscious, balanced play, you'll be exercising a proactive approach to ensuring this is the right option for you and the others involved," he said.
While 16 percent of heterosexual respondents said they've tried it, most turned out to be men. Only 11 percent of women said they've had two lovers at once compared to 26 percent of men.
In terms of marital status, singles and divorcees had a 38 percent higher likelihood of being in a three-way than married individuals.
Middle-income earners and Westerners also were among the most likely demographics to have done so.
Twenty-four percent of those earning between $50,000 and $74,999 annually admitted they've had a sexual encounter with more than one person at a time, but only 14 percent of those earning $125,000 or more a year have.
Men and women living in states like Nevada trumped those living in states like South Carolina by more than one-third.
On the flip side, older Americans and Asians were among the least likely to take part.
Respondents aged 25 to 34 were almost three times more likely than respondents aged 65 and older to participate in this type of activity.
Less than one in 10 Asian-Americans said a threesome has been part of their sexual repertoire, while almost one in four African-Americans said so.
The study surveyed 1,080 respondents over the course of three weeks, balancing responses by age, gender, income, race, sexuality and other factors in order to accurately represent the U.S. population. The study has a margin of error of +/- 2.8%.
In addition to publishing its own studies, DatingAdvice.com aggregates other reputable dating and relationship research in the site's Dating Studies section. Follow the studies feed via email, Twitter or RSS to stay informed of the latest research.