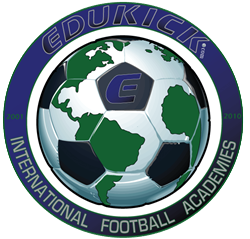 Interested soccer players and parents should contact EduKick soon to initiate the Student Visa application process...courses begin in September!~EduKick President, Joey Bilotta
Toronto, Canada (PRWEB) July 25, 2014
EduKick offers 2014/15 academic year study abroad courses for footballers. Since 2001 EduKick International Soccer & Education Academies offers academic year football academy boarding schools in SPAIN, ENGLAND, GERMANY, FRANCE, ITALY, BRAZIL, USA & MEXICO with full-time educational options including, ESL, EFL, BTEC Sports Science, Foreign Language Study, IGCSE and A-Level, and USA 8-12 Online Distance Learning.
EduKick International Football Academies are intensive soccer training and language immersion or academic programs, typically designed for students aged 13 to 23 years of age. The programs combine daily professional football training and daytime structured language classes, High School academics or sports science courses taught by highly qualified coaches and teachers. Evening cultural activities and weekend trips to popular tourist attractions and historical destinations compliment the young student-athlete's overall experience.
EduKick's You Tube Channel allows interested parties to view hundreds of EduKick academy videos prior to deciding to register or not. The EduKick players live in the selected country and are totally immersed in its language and culture. In their academies scattered around the planet, all football training sessions, academic and language classes and social activities are conducted in the foreign language to maximize the youth's opportunity to acquire proficiency in the new language and enhance his or her overall cultural experience abroad.
The two most popular EduKick Soccer & Education Academies are Madrid, Spain and Manchester, England, where EduKick regularly registers 20 to 30 international soccer players for the academic year. In Manchester, for example, for the 2013/14 academic year 28 players attended the course and they came from a total of 21 different countries. The intercultural exchange and appreciation that transpires between the participating EduKick academy players is impressive and educational for these young aspiring footballers.
At EduKick Madrid, international players not only train daily under the EduKick technical Spanish coaches, but are also inserted onto a local team for three additional evening training and weekend match play. This intercultural exchange with Spanish footballers benefits EduKick participants immensely both linguistically and on the football pitch.
Educational options at EduKick Manchester International Football Academy include, English as a Second Language (ESL/EFL), BTEC Sports Science, IGCSE and A-Level, and USA 8-12 Online Distance Learning.
The EduKick Manchester affiliated school, International House Manchester is recognized and licensed by UK Visa & Immigration to sponsor students under Tier 4 of the Points Based System (a Highly Trusted Sponsor). In other words, EduKick is able to get it's participating players Student Visas that allow them to reside legally in England for the duration of the course.
At EduKick Madrid educational options include Spanish Language Study at their affiliated language institute, International House Madrid or younger academy players can attend the EduKick Madrid affiliated private middle/High School, Alameda de Osuna.
Many North American participants at EduKick Madrid elect to study US grade 8-12 Online Distance Learning (in English) with an accredited online (virtual) High School recognized by their home school institution. EduKick provides WiFi access in all of their accommodation set-ups in each of their eight venues worldwide, allowing players the option to study online in their native language.
In addition to Madrid and Manchester, EduKick also has other venues around the world for aspiring soccer professionals to consider, including Perugia, Italy; Cannes France; and Hennef, Germany in Europe and Puerto Vallarta, Mexico; Santa Barbara, USA; and Belo Horizonte, Brazil in the Americas.
For more information on EduKick and their academic year study abroad courses for competitive soccer players, check out their EduKick "frequently asked questions" page or contact them directly at the contact information provided in this release.
EduKick Mission: To operate the world's leading international soccer/football and education academy boarding schools; building strong business relationships in a vibrant, creative and ethical international football environment. To teach, inspire and create the best technical and physically fit student-footballers possible and create international students with inter-cultural competence (ICC) enabling them to compete professionally and athletically in the modern competitive world.