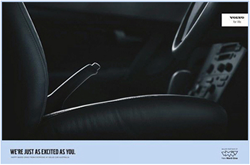 There are a few boundary-breaking advertising ideas for more adventurous marketers that are sure to catch the attention of the ever-shifting college demographic. The best themes to focus on: sex and trends.
Austin, TX (PRWEB) February 06, 2014
Cutting through noise can be tricky for businesses aimed at the college market, and often one devises (and pays for) a marketing campaign only to find out that the promoted content is so-called "old news" or, in the end, students just aren't into it.
However, there are a few boundary-breaking advertising ideas for more adventurous marketers that are sure to catch the attention of the ever-shifting college demographic. The best themes to focus on: sex and trends. Here Study Breaks, a leading college media entertainment company, presents strategies for pushing the limits of an advertising campaign and grabbing the attention, interest and even business of college students.
Remember Sex Sells
One case study that exemplifies how sex sells is the case of Lauren Curley, Marketing Director for Landmark Property Services, who decided to experiment with the idea of creating "edgy" headlines within her marketing promotions.
One specific ad she tested contained the phrase, "You can ride it," to grab the attention of Craigslist prospects. In the body of the ad it says, "…the bus stops right outside our door. What did you think we meant?"
The results were that the community in which Curley tested these ads saw a 29% increase in phone calls from Craigslist viewers.
Of course, sexual innuendos can come in many forms, all of which are extremely relevant to today's students. One can always look to pop culture for inspiration when double entendre headlines and half-naked co-eds aren't creating results.
The bottom line is that the adage "sex sells" still rings true, and that by integrating slightly provocative taglines and photos into one's marketing campaigns (especially ones that still have an actual innocent slant, despite the intended shock factor) is a great way to grab the attention of college students who are being bombarded by advertising all day, every day, in their real and digital lives.
Run Unconventional Contests
One way to engage college students is to by capitalizing on both the benefits of contests and current trends—in this case, the "selfie." "Selfie" was officially named the 2013 Oxford Dictionary word of the year in 2013, and with good reason. Celebrities such as Kim Kardashian, Miley Cyrus and Justin Bieber have embraced the trend and helped launch it as a pop-culture phenomenon. (As an aside, this brings to mind another way to catch the interest of students: pop culture references.)
Small businesses have caught on to the hype too, launching "selfie contests" to increase social media engagement. It's an easy and effective contest model: a business picks a theme like vampire, zombie, outdoor, gym, etc. (while a theme isn't completely necessary, it does act as a minor gatekeeper to entry), and asks social media followers to send in their best selfles.
An online contest like this creates a win-win for everyone involved: the inner wins a prize while the business enjoys a raised level of engagement. And, if the business chooses to "like-gate" the contest so that participants are required to "like" the fan page before entering—and, if voting is happening, mandating that voters "like" the page as well—this also has the added benefit of increasing one's social media following.
Promote Video Content
The importance of video content can be illustrated with a few statistics:

86% of colleges and universities have a presence on YouTube, according to the University of Dartmouth.
By next year, video ad spending will increase from $1.97 billion to $5.71 billion.
Each day 100 million internet users watch an online video.
More video content is uploaded in 30 days than all three major U.S. T.V. networks combined have created in 30 years.
1/3 of all online activity is spent watching video.
(Click here for more statistics.)
The success of video platforms such as Vine and Instagram has added social credibility to the video clip. Not only are students creating clips and astounding rates, but they are watching (and sharing) other people's clips as well.
Businesses looking to tap into the video platform can do so using three main strategies:
1. They can become the creator, shooting original short clips featuring products, limited offers and special events. Marketers interested in creating video content have the advantage of shaking up regular social media content and not weighing the viewer down by taking up his/her time, due to the time restraint of Instagram and Vine videos.
2. They can ask friends/followers to send in their own video content to be featured in contest form, on one's own social platforms, or even within one's paid advertising.
3. They can capitalize on trends. Video trends like 2013's "Harlem Shake" had all kinds of businesses filming themselves participating in the worldwide craze. Not only does this emphasize that a business is cool and "with it" (which are important qualities for college students), but by participating in a huge movement online, there's the possibility that one's video—and by proxy, brand—will receive more attention than it would normally.
Study Breaks College Media provides a one-stop solution for small businesses, providing them with big marketing strategies and delivering college students.
Study Breaks magazine is an award-winning line of monthly entertainment magazines for college students with a mission can best be explained through its slogan: We are college life. Published by Shweiki Media Printing Company, it is distributed in five Texas cities (Austin, Houston, San Antonio, San Marcos and Lubbock). (Studybreaks.com)