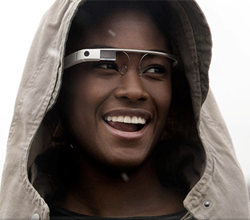 It's more important than ever that businesses targeting the college market incorporate augmented reality. The companies that embrace it now are sure to grow with the technology, while those who refuse to adapt are sure to be left in the dust.
Austin, TX (PRWEB) November 07, 2013
Here Study Breaks, a leading college media entertainment company, presents tips for utilizing augmented reality and a rundown of smart glasses set to hit the market by storm, becoming both a fixture on college students' faces and the technology du jour, which businesses—whether they like it or not—need to embrace.
Augmented reality has been around for a while now. Invented for smartphone usage, made popular by mobile tablets, and perhaps mass-produced thanks to technologies such as Google Glass, it is clear to see that this technology isn't going anywhere--a fact that's evidenced by the different companies incorporating it into their various products.
And, as this new technology evolves, it's important to note that the first demographic to embrace it isn't going to be soccer moms or school teachers; college students pride themselves on being on the forefront of cutting-edge technology—whether it's an iPhone upgrade or social network—and that carries through to augmented reality and its associated devices as well.
That said, it's more important than ever that businesses targeting the college market incorporate augmented reality as it continues to gain steam. The companies that embrace it now are sure to grow with the technology--progressing as it becomes more and more of an everyday part of life--while those who refuse to adapt are sure to be left in the dust as students regard businesses who haven't evolved as dated or uncool. (Or, even worse, don't acknowledge their presence at all.)
The best way to embrace this futuristic technology and capture the attention—and, by proxy, the business—of college students, is to utilize proximity marketing. Imagine, for example, a group of hungry students leaving class and heading back to their dorms, hoping to stop for food on the way. A restaurant could take advantage of these potential customers and capitalize on the opportunity by utilizing proximity marketing so that, as the students approach their business, a discount or offer pops up, wooing students with both a good deal and a nearby location.
And though this technology has become integrated with all kinds of devices—take, for example, Samsung, which recently launched its own augmented reality-incorporated successor to the smartphone, the Galaxy Gear smart watch--most believe that augmented reality-laced eyewear is an inevitable replacement for handheld devices. This means that, as students strolled down the street sporting their smart glasses, a business has the ability to transmit their message directly into the field of vision of the students—without them even needing to pick up their phones or do anything at all.
Below, Study Breaks College Media has listed a few of the upcoming smart glass models, illustrating even further how this technology is growing and emphasizing to businesses the importance of adapting and integrating augmented reality to ensure they capture a piece of the college market.
Sony Smart Glasses
For a company already invested in 3D viewing and video game technology, creating an augmented reality model doesn't seem like much of a stretch. Although Sony hasn't confirmed that they are working on a smart glasses model, in June 2012 Engadget reported on a Sony patent filing for a smart glasses device capable of transmitting information to other wearers, connecting to a watch, and reading visual tags.
Microsoft Glass
Microsoft is another industry leader with hands in multiple tech pots. In November 2012, a Microsoft patent was discovered detailing possibilities for overlaying detailed information on top of live action. This type of patent could include things like stats and replays during live sports matches, lyrics floating next to a singer during a concert, and eventually could lead to content (perhaps advertising) being seen in everyday life.
Vuzix Smart Glasses M1000
The Vuzix Smart Glasses M100 are one of the first models of smart glasses slated to hit the market, with a scheduled launch date for the end of the year. The device connects to one's smartphone via Bluetooth or the cloud and can run all applications from an elevated point of view. It supports GPS and has a built-in head tracker and a 720p camera for capturing images and videos. The scheduled retail price should run around $500.
Oakley Smart Glasses
Oakley, while not a tech brand per se, seems highly interested in the future of augmented reality and has been testing its own pair of smart glasses for over 15 years. While it's unclear how soon Oakley will be prepared to go to market (all signs point to the distant future), Oakley has had a history of launching sunglasses with built-in technologies. The Oakley Thumps, which combine headphones into a pair of sunglasses, have been around since 2004.
Optinvent ORA Digital Eyewear
Optinvent, a French company, has been perfecting their own augmented reality sunglasses model for a number of years now. In June, it showed off its head-mounted display, the ORA. The glasses feature a high potential for functionality, with features built in for navigation, messaging, watching videos and gaming—along with a microphone and loudspeaker. ORA would hook up to one's computer or smartphone via WI-FI or Bluetooth.
Study Breaks College Media provides a one-stop solution for small businesses, providing them with big marketing strategies and delivering college students.
Study Breaks magazine is an award-winning line of monthly entertainment magazines for college students with a mission can best be explained through its slogan: We are college life. Published by Shweiki Media Printing Company, it is distributed in five Texas cities (Austin, Houston, San Antonio, San Marcos and Lubbock). (Studybreaks.com)