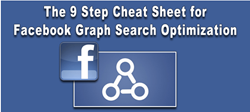 When marketing to college students, one should pay special attention to steps 5-7, keeping in mind that it's content that plays a vital role in capturing the interest of this demographic and getting the engagement that Facebook is looking for.
Austin, TX (PRWEB) August 29, 2013
While Facebook's graph search is continuing to grow in usage and development, many small business owners are double-checking their fan page preferences in order to maximize enhancement. But how can one be sure that their changes are worthwhile?
Although a majority of graph search augmentation seems to be data entry-based, there are definite marketing strategies small business owners can choose to employ if they want to become active (particularly in the college market). Right On-No Bull Marketing recently published a 9-Step Cheat Sheet infographic explaining every step in the graph search optimization process. Here, Study Breaks College Media promotes it, breaks it down and explains why this is important when marketing to college students.
And, when marketing to college students, one should pay special attention to steps 5-7 below, keeping in mind that it's content that plays a vital role in capturing the interest of this demographic and—by proxy—getting the engagement that Facebook is looking for.
1. Choosing the Right Category
Often it's the category a business selects that determines who finds them using Graph Search. That said, it's crucial to choose the category that fits the business the best—be it local business or place; company, organization or institution; brand or product; artist brand or public figure; entertainment; cause or community.
How to access categories:
1. Click "About" on profile
2. Click "Edit" next to "Basic Info" header
3. Select the desired category
4. Click "Save"
2. Checking the Business Address
Another thing that determines the results of a Graph Search? Location. If the address of the business isn't listed correctly, it's not going to appear in location-based searches. Another thing to note is keeping it consistent throughout all online outlets. If the website lists the business's address as 123 N. 1st St., it should be listed on the Facebook page the same way—not as 123 North Street.
3. Filling Out the Entire Profile
One should complete every field in the "About" section of the company's page. This not only can help improve Graph Search rankings, but it makes it easier for people to understand how, exactly, the business can help them. Mission, description, awards, products…these all give the customers more insight into the business and what it can do for them.
4. Including Important Keywords
It's important for one to use keywords in the "About" section, in status updates and in hashtags to boost Graph Search visibility as well. However, it is important to not take the "About" section as an opportunity to cram in as many keywords as possible. The primary purpose of this section is to communicate to Facebook users—or, as one could think about them, potential customers—the most important aspects of the brand.
5. Increasing the Number of "Likes"
Popularity pays off, as Graph Search rankings improve when a business has more followers. A few strategies for gaining "likes" include offering things of value, advertising the page on Facebook, adding "Like" buttons on the website and blogs, and running contests/promotions.
6. Encouraging "Check-Ins"
In the age of social media madness there seems to be a need to post everything online (almost as though if it isn't on Facebook, it didn't happen). College students in particular are constantly on their mobile phones and avid about letting their friends know where they are at all times—whether it's the gym, bar or movie theater. But that said, it's still important for businesses to find ways to encourage "check-ins," as more people "checking in" to the business means better Graph Search rankings. A few ways to increase these are by offering incentives, including signage at the business, advertising the page on Facebook and by simply asking people to "check-in."
Incentives in particular are a great way to target college students who, even more than the rest of the population, are all about value and are huge fans of a certain four-letter word. (Free!) Whether you add a discount or throw in a freebie, a reward is an excellent way to score a coveted "check-in" (which is essentially free publicity as well).
7. Posting and Tagging Photos and Videos
Graph Search makes it easier than ever for people to search for photos and videos. By uploading these and tagging the business page, one can improve Graph Search rankings—while hopefully also providing entertaining content and putting a face—or faces—to the business.
Tips for posting and tagging: post images and videos several times a week; tag the business in photos and videos; include keywords in photo and video descriptions; remember to tag timeline covers and profile pictures as well.
8. Getting a Username
A username/unique URL is very important. For example: Facebook.com/ShweikiMedia is a lot easier to remember and share than a long, completely random URL full of arbitrary numbers and letters. It's important to have a username that matches the company's name to help with Google search results, and experts also believe that it may improve Graph Search results.
To get a username, one simply visits facebook.com/username, selects thir page, and creates a custom username that is as similar as possible to the name of the business.
9. Seeking Professional Help
If one needs assistance, they can find it with Right On – No Bull Marketing or with Study Breaks College Media.
As an end note, one should keep in mind that aside from simply growing the page itself through added "likes" and engagement, business owners now have an extra reason to encourage what used to be thought of as "secondhand" attributes (tags and "check-ins"). Tagging one's business in photos and videos (and motivating students to do the same) now potentially expands one's reach vastly farther than temporary borrowed wall space. The same could be said for check-ins, as offering coupons (another college student favorite) and other incentives to those who check-in (and/or tag) could be the extra ingredient needed to separate oneself from competition, and ultimately drive in new business.
Study Breaks College Media provides a one-stop solution for small businesses, providing them with big marketing strategies and delivering college students.
Study Breaks magazine is an award-winning line of monthly entertainment magazines for college students with a mission can best be explained through its slogan: We are college life. Published by Shweiki Media Printing Company, it is distributed in five Texas cities (Austin, Houston, San Antonio, San Marcos and Lubbock). (Studybreaks.com)