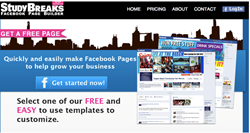 But if one adapts with the students themselves, one can experience all the rewards of tapping into a 10.5 billion dollar market.
Austin, TX (PRWEB) August 15, 2013
Small businesses operating in college towns are no strangers to student overturn supporting fluxes in business. For many business owners, a new school year symbolizes a new branding cycle—one working to educate those who are new to the area, while fighting to maintain current customers as new competitors inevitably enter the ring. This push/pull nature of marketing can prove a fine line to walk, and ultimately many businesses lose relevance as a new wave of students chooses to spend their money elsewhere. But if one adapts with the students themselves, encouraging a brand as not just another piece of real estate, one can experience all the rewards of tapping into a 10.5 billion dollar market.
Here are five must-know marketing ideas designed to help businesses stay relevant among the student populace:
Augmented Reality
While augmented reality isn't newly created, it still isn't mainstream in terms of distribution. It's for that reason that now is the perfect time to design augmented strategies. Students will quickly pick up on the technical aspects and find themselves impressed with the results. Marketers can design flyers, posters, location artwork, all embedded with augmented code; highlight them either on campus or at one's location, and instantly be seen as a leader in a new cool trend (which will only grow with Google Glass).
Proximity Marketing
Proximity marketing is an excellent strategy and one that many smart retailers are using to combat competition. While retailers use it to target people who already know what they want (just not where they are going to find it), it could just as easily (and perhaps more effectively) be devised for and targeted towards those who don't know what they want or what stores even exist. Not only are those new to an area more likely to use their phones for guidance, but they will change their view of the standard itself as one's broadcasted message remains a piece of their first capitalistic excursion.
Social Media Contests
If there is an area where one can ignite (or reignite) a brand, it's in the social media field. Businesses in the college market have a social media advantage outside of those platformed elsewhere simply because students are inherently social media-savvy. Aside from the general content input/output, marketers aiming at students can separate themselves by running full-fledged campaigns with a relatively minimal amount of planning. They key to all social media success is harnessing an environment for participation; small habits such as updating one's cover photo to include customers, running weekly caption contests, and letting the customer design a new drink/food item are all good strategies to cheaply gain brand awareness where it matters most—online.
Discounts
College students thrive on the absurd. This can come in the form of serving a giant T-bone steak, a bathtub-sized drink full of liquor, or a regular BOGO distributed coupon. Giving something away (especially to students) is one of the best strategies for getting someone to interact with one's product/service. One a larger scale, creating a "free appetizer" or "dollar beer" campaign (or more preferably, something unique to the business itself, such as a "free cart Wednesday" for a golf course) is a great way to transform a brand from a commercial real estate location to a weekly event.
Buy Ad Space
No, spending money isn't fun, and yes, sometimes one can't afford to (see social media), but for those who can, buying ad space is a surefire way to ensure that one's brand never loses favor. Avenues for purchasing ad space throughout a city are as varied and fragmented as the businesses in the marketplace themselves, but when one places his/herself into the shoes of someone brand new to the area, a well-placed promotion could easily result in four-year loyal customers. Publications, campus events, transportation systems, park benches—even the scorecards of a local golf course—can be used as windows opening up awareness of one's brand. Efficient ads, however, direct unknowing viewers towards one's marketing campaign, where they are introduced not just to the product, but to all they have been missing at home.
Study Breaks College Media provides a one-stop solution for small businesses, providing them with big marketing strategies and delivering college students.
Study Breaks magazine is an award-winning line of monthly entertainment magazines for college students with a mission can best be explained through its slogan: We are college life. Published by Shweiki Media Printing Company, it is distributed in five Texas cities (Austin, Houston, San Antonio, San Marcos and Lubbock). (Studybreaks.com)