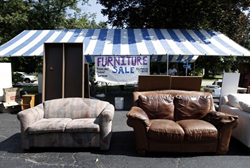 Furniture stores looking to get a piece of the $5.3 billion market shouldn't be dissuaded by the competition. By branching out from standard marketing strategies, it's possible for local businesses to reach college students.
Austin, TX (PRWEB) April 08, 2014
Selling furniture to college students can often be a difficult and mystifying process for business owners. In a world filled with mark-ups, mark-downs, and overwhelming options, many students just end up going with big-name options like IKEA or resorting to secondhand purchases from Craigslist instead of seeking out local shops, which can seem discouraging.
But furniture stores looking to get a piece of the $5.3 billion market shouldn't be dissuaded by the competition. By branching out from standard marketing strategies (a couple of local ads, a weekend sales event, social media targeting) and integrating more modern and outside-the-box techniques, it's possible for local businesses to break into the market and grab the attention—and business—of college students.
Here Study Breaks, a leading college media entertainment company, presents small businesses with strategies for standing out from the competition and winning over this valuable demographic.
Mobile Marketing
Although it rings especially true for businesses dealing with college students, any business looking to remain current within the marketplace should start focus on their mobile marketing efforts.
And while the development of a mobile website is initially where one should start, there are multiple mobile apps, platforms and types of technology that business owners can choose from when looking for ways to get creative with their marketing:
-Snapchat
Snapchat is a mobile application that has been popular with students for a while now, but the addition of its recent "my story" feature has opened the platform up for business marketing.
Marketers can encourage all customers and social media followers to add them on Snapchat, and then use the "my story" feature to give product previews, connect with customers, or even run contests and offer deals.
-Augmented Reality
Augmented reality is a form of mobile technology that many business owners—some in the furniture industry—are already taking advantage of by integrating it into their print advertisements and materials. IKEA recently launched their own augmented reality app that allowed viewers to preview items found in the IKEA catalog as they would look in their own home.
While most local furniture store owners don't publish their own catalog, anyone can embed an AR message within their local print advertising that will help them stand out from the competition and wow their target demographic: tech-savvy college students.
Purchase Used Furniture From Students
Though probably not a viable option for high-end furniture businesses or chain stores, presenting students with a way to make money rather than spend it by offering to buy their used furniture can be a great way for a local store to make a name for themselves, establish relationships, and get business in the door.
After all, just as most students will need to purchase furniture at some point in their four (or five)-year college career, there will come a time when students will need to sell back their choice items. And even if one is extremely particular about which used items they purchase, marketing the fact that one's place of business is an option for students looking to unload their unwanted possessions is a surefire way to increase foot traffic. And there's always the possibility that when those students who've sold off their old college couches are in the market for some new furniture to accessorize their first "grown-up" home, they'll return to the place where they had such a positive experience initially.
Study Breaks College Media provides a one-stop solution for small businesses, providing them with big marketing strategies and delivering college students.
Study Breaks magazine is an award-winning line of monthly entertainment magazines for college students with a mission can best be explained through its slogan: We are college life. Published by Shweiki Media Printing Company, it is distributed in five Texas cities (Austin, Houston, San Antonio, San Marcos and Lubbock). (Studybreaks.com)