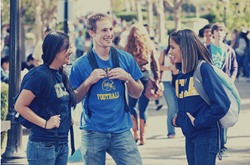 The result of the public limelight has been the development of a whole Spring Break industry scrambling to get a piece of the $208 billion yearly market.
Austin, TX (PRWEB) October 17, 2013
Throughout the years, the phenomenon known as Spring Break has become a right of passage for most college students. It is a week where students of all majors and backgrounds, from all different universities, can join together at one of a few choice destinations and celebrate that wonderful gray area between youth and adulthood (and a week without class). Media outlets everywhere have hyped up the Spring Break experience to a point of a national holiday, making it one of the most anticipated times of the year.
The result of the public limelight has been the development of a whole Spring Break industry, scrambling to get a piece of the $208 billion yearly market. Destination hotels, parties, and transportation are being bundled and sold to students in a clean and easy all-in-one package. But in a hyper-competitive industry such as this, how do companies separate themselves from their competitors?
Here are a few pieces of advice on how to get in on the action:
Print Advertising
Contrary to popular belief, print is as popular as ever, and purchasing advertising space in an on-campus publication is a surefire way to ensure that unsolicited targets—aka students planning a Spring Break trip who haven't committed to a specific company or trip yet—are exposed to one's message. The biggest obstacle many business owners face in their marketing campaign is gaining enough exposure and ensuring that their marketing campaigns are reaching the right audience. A print ad not only solves this problem, but it often results in directing viewers to other (probably online) media as well, where one can simultaneously promote select content and gain web traffic.
Of course, if one really wants to spice up their printed message and stand out from the pack, they can embed an augmented reality code within the ad. Besides the general wow-factor alone of an augmented reality video, this element allows Spring Break companies to provide more than just information in their ad; it allows them to convey the experience that they're selling. (Think, for example, of an enticing, action-packed video of a beach party that translates the true amazingness of the experience much more effectively than text and photos.)
One can also embed links and social media icons into the video, making it easier than ever for students/potential customers—who are now hyped up after watching the video—to check out one's site with a simple tap on the screen of their mobile device.
All in all, augmented reality can equate to three-for-one advertising, combining print, video and direct links all in one awesome ad.
Campus Reps
Finding a quality campus rep can be a long, arduous process and one that understandably not every company is willing to go through. College students are busy after all, and it's frustrating to invest time and effort training an employee that might unexpectedly quit halfway through the semester. However, if one is heavily invested in the college market, it is hard to ignore the boots-on-the-ground advantage that comes with using a campus rep. Students in particular can be weary when it comes to spending a large sum of money on things they aren't already familiar with, and campus reps—besides being there to answer questions and concerns—serve as a symbol of proof that other students are using the service (an invaluable asset in terms of revenue). Hiring campus reps not only gets one's product on campus, but provides the company with a team responsible for spreading brand awareness through word-of-mouth to their like-minded peers.
Social Media
Social media is the bread and butter of the Spring Break industry. A well-designed social media page can contain every piece of information prospective students are looking for. Photographs, testimonies, two-way communication and even discounted coupons can all be used to entice the viewer into action. And posting photos after Spring Break from the trip, encouraging students to tag themselves, is a way to ensure former customers continue to be of value by indirectly marketing the company and advertising how great their experience was by sharing the photos.
A more in-depth use of social media would be creating a fan page for one's campus reps. Not only could one accumulate a vast database of former and current customers (showing value), they could promote the rep's or reps' page from the company page while simultaneously gathering in all the "likes" the reps bring about. This tag-team approach can be used to enhance the image, communication and exposure of both the company and the reps themselves.
Study Breaks College Media provides a one-stop solution for small businesses, providing them with big marketing strategies and delivering college students.
Study Breaks magazine is an award-winning line of monthly entertainment magazines for college students with a mission can best be explained through its slogan: We are college life. Published by Shweiki Media Printing Company, it is distributed in five Texas cities (Austin, Houston, San Antonio, San Marcos and Lubbock). (Studybreaks.com)