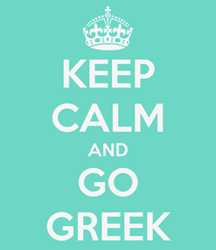 If a business can position themselves within the Greek rush process, they can potentially build the foundation for a mutually beneficial relationship and establish themselves as part of a tradition that will be carried on as years pass.
Austin, TX (PRWEB) April 22, 2014
For the typical business catering to the college market, one's busy season and often success typically correlate directly with the busiest time of the academic year. And when it comes to a busy time of the year, no portion of the calendar is more important to local businesses than Greek rush.
During Greek rush, incoming freshmen, transfer students and interested sophomores will be grouped together and participating in activities that are, in many ways, foreign to them. They are getting to know active members, each other, and—ultimately—the underlying Greek pulse of their college town. If a business can position themselves within the Greek rush process—making themselves a must-go restaurant, store, bar, etc.—they can potentially build the foundation for a mutually beneficial relationship and establish themselves as a tradition (and even legacy) that will be passed down from student to student and carried on as years pass.
Here Study Breaks, a leading college media entertainment company, presents businesses with must-know strategies for marketing to students during Greek rush and establishing themselves as an important part of the process.
Promote Greek Discounts
Although Greek rush certainly has its traditions, one way to infiltrate that world and become part of the process is to entice the students making the decisions. Most organizations will have an outline of the rush process, but just as campus itself changes with every new year, many rush decision makers will be looking for new ways to shake things up. The general rule for getting any student into one's place of business is to undercut the competition with a discount.
If one is looking to target Greeks specifically, promoting a group discount is a surefire way to capture the attention of any organization. There is no doubt that this strategy works better for a specific range of local industries (restaurants, bars, outdoor businesses) than others, but any business can market their product as "Greek-worthy" by thinking in terms of bulk.
Grouping together a variety of products, selling them as a package deal, and marketing directly to Greek groups with an exclusive special that's available for a "limited time only" is an excellent way to carry this out.
Profit Share
Chances are that if one is working with the Greek market, they have already invested in some sort of profit share promotion. Every Greek organization has to fundraise as a barrier of entry to be recognized as a chapter. While these profit share opportunities will come and go throughout the year, one way to gain Greek trust is to present one's business as a profit share opportunity early in the year. Letting students know up front that one's business supports the Greek process is a quick and easy way to establish mutual respect and loyalty.
Host an Event
Hosting an event takes time and money but could ultimately be the best way to make a direct impact on campus. If one is planning on sponsoring a major event, running it during Greek rush certainly has its benefits.
Besides the obvious perks of having multiple organizations present at one's event, there's also the added benefit of throwing it at the beginning of the school year, setting the tone for the next two semesters. After all, trends within the college demographic come and go quickly, mostly because of the holes in the market that open up when one's consumer base is in a constant state of flux. Hosting an event at the beginning of the academic year jump-starts one's local marketing while also giving incoming freshmen a foundation to grab onto.
Study Breaks College Media provides a one-stop solution for small businesses, providing them with big marketing strategies and delivering college students.
Study Breaks magazine is an award-winning line of monthly entertainment magazines for college students with a mission can best be explained through its slogan: We are college life. Published by Shweiki Media Printing Company, it is distributed in five Texas cities (Austin, Houston, San Antonio, San Marcos and Lubbock). (Studybreaks.com)