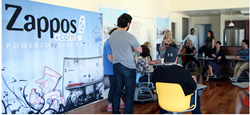 According to Business Insider, by 2020, millennials will be responsible for 30% of all retail sales.
Austin, TX (PRWEB) June 12, 2014
According to Business Insider, by 2020, millennials will be responsible for 30 percent of all retail sales. For small business owners targeting the college demographic as their target customer base, this means it's more important than ever to look at major brands that are already shifting their strategy to target students on a national level and to learn from their successes and strategies.
Here Study Breaks College Media presents small businesses with a detailed look at the strategies big companies are using to successfully win over the valuable demographic known as millennials.
Aeropostale
Another Business Insider article highlights Aeropostale's engagement strategy, which was specifically launched to gain favor with teens. Along with creating their own app that connects with user's PayPal accounts to increase shopping, the retailer decided to install iPad kiosks in stores to draw more customers. As a result of their recent changes, Aeropostale's mobile web traffic grew by 167 percent in one year.
Taco Bell
In 2013, Taco Bell decided to drop the kids' meal from their product line in order to adjust their strategy towards millennials, and they stuck with that strategy this year with the launch of a complete breakfast menu, resulting in a millennial culture of coolness. The fast food joint has approximately 10 million Facebook fans, more than a million Twitter followers, and over 300 thousand Instagram followers.
Jack in the Box
Jack in the Box originally won millennials over with its unique advertising, and in late 2013, they decided to reinforce their connection with their choice demographic by marketing using the concept of conquering the late-night munchies. By adding menu items such as the stacked grilled cheeseburger, loaded nuggets (chicken nuggets smothered in two kinds of cheese, ranch dressing, and bacon), exploding cheesy chicken sandwich, and brunch burger (a cheeseburger with a fried egg and hashed-brown patty on top), Jack in the Box has successfully enticed millennials (and converted this enticement into sales).
Zappos
Zappos has won over millennial favor, not by adjusting their product line, but by creating a company culture admirable to the younger generation. Zappos CEO Tony Hsieh's book Delivering Happiness: A Path To Profits, Passion, and Purpose lists Zappos' 11 Company Culture Aspects That Win Over Millennials:
1. Coaching: Happy employees are more productive. Zappos has a full-time life coach that is available to anyone in the company to help them set and achieve personal or professional goals (ex: finance, weight loss, promotions, new skills, etc.).
2. Collisions: Zappos encourages employees to work remotely but at coffee shops or co-working spaces to increase people collisions (serendipitous connections that foster creativity).
3. Community: Zappos recently moved their headquarters from a Las Vegas suburb to the former city hall in downtown Las Vegas. Zappos intentionally chose the location in an effort to revitalize a community that was once very entrepreneurial and creative. A primary priority for Zappos is to positively impact the community.
4. Autonomy: Zappos has been called The Entrepreneur Disneyland. Zappos employees are empowered to do whatever they want to wow the customer. There are no phone scripts or time limits. They want their reps' true personalities to shine. Also, Zappos' Twitter policy is just be real, and use your best judgment.
5. Development: Zappos offers hundreds of books available for free in their lobby, and employees are paid extra for reading and presenting what they learned. Zappos provides all the training and mentorship necessary so that any employee has the opportunity to become a senior leader within five to seven years, and even offers a "skill set" system that allows employees to get certified and receive a pay bump with each new skill set acquired.
6. Fun: Various departments in the Zappos office may play host to make-shift bowling alleys, employees dressed as pirates, karaoke, nap rooms, a petting zoo, hot dog socials or even a llama. One of Zappos core values is "Create fun and a little weirdness."
7. The Right Team: Building and maintaining the ideal culture begins with the hiring process. Zappos offers everyone $2,000 to quit after taking the first week of training, and it's a standing offer until the end of the fourth week of training. This ensures that people are there for more than a paycheck. Less than one percent take the offer.
8. Clear Mission: Zappos' goal is for their employees to think of their work not as a job or career, but as a calling. Zappos' vision has a higher purpose (above money and being first in the marketplace) focused on: Clothes (shoes) / Customer Service / Culture / Community. In 1999, their mission was to sell shoes. Four years later, they decided to be about the best customer service. Then company culture became a business strategy with success being a natural byproduct. And finally, community (as highlighted above) has become an integral part of their mission.
9. Work/Life Integration: When people dread going to work, it's because they know they are leaving a piece of themselves at home. Zappos encourages employees to bring their true self and passions to work. Most Zappos employees consider their peers true friends and will hang out with other employees outside of work. Favors and productivity go up when working among friends because communication and trust increases.
10. Flat Organization: Every Zappos employee got to collaborate on the company's core values. The monthly employee newsletter, Ask Anything, encourages employees to send an email and ask any question they want. Zappos believes the best ideas and decisions are made from the bottom up.
11. Transparency: Zappos also emphasizes the importance of exposing the company's DNA to the world, especially in an age where social media can contribute to a company's success or downfall.
Sharpie
Sharpie is one of the most successful social media companies when it comes to engaging with teens. In 2012, their social media-heavy back-to-school campaign helped grow their total market share to 89% of their category. The Social Media Examiner attributes Sharpie's teen success to three major engagement techniques:
1. Make content visual and engaging.
2. Promote self-expression.
3. Appeal to multi-screen and mobile platforms.
Based on the successful strategies of the companies above, it's clear that to succeed when targeting millenials, it's important to develop innovative techniques, utilize technology and create a "cool" culture that will naturally draw the demographic in. More tips on how to market to college students can be found at studybreakscollegemedia.com.
Study Breaks College Media provides a one-stop solution for small businesses, providing them with big marketing strategies and delivering college students.
Study Breaks magazine is an award-winning line of monthly entertainment magazines for college students with a mission can best be explained through its slogan: We are college life. Published by Shweiki Media Printing Company, it is distributed in five Texas cities (Austin, Houston, San Antonio, San Marcos and Lubbock). (Studybreaks.com)