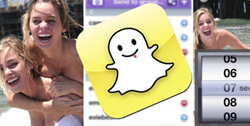 Snapchat is one of the more current influential platforms within the college demographic, with recent reports claiming that users of the mobile app exchange more than 400 million messages every day.
Austin, TX (PRWEB) February 18, 2014
Most small business owners aimed at the college market work hard to keep their marketing mix fresh, and doing so usually means adopting emerging platforms as they arise, with marketers adding and dropping mediums as they fluctuate in popularity.
Snapchat is one of the more current influential platforms within the college demographic, with recent reports claiming that users of the mobile app exchange more than 400 million messages every day.
And along with its original fast-paced model—where messages sent to the desired participants, once opened, self-destruct in a matter of seconds—Snapchat launched their "My Story" feature, allowing users to promote a message universally to all of their followers over a 24-hour period.
The addition has proved positive for creative marketers interested in using this app for promotional purposes. Here Study Breaks College Media presents businesses with marketing strategies for using Snapchat to connect with college students.
Create a Custom Coupon
A New York-based frozen yogurt chain, 16 Handles, was one of the first businesses to use Snapchat to send discount coupon codes to customers. Followers of 16 Handles who sent snaps of themselves or friends eating 16 Handles frozen yogurt were instantly eligible to receive a personalized coupon code. The discounts ranged from 5% to 100%, and recipients redeemed the coupon by showing the cashier the code they received.
The measure was successful and the promotion was popular, and within a few days of beginning their Snapchat campaign, 16 Handles had exchanged more than 1,400 messages with Snapchat users.
This coupon strategy is especially effective when dealing with college students, who are always looking for a discount or deal. A coupon (and especially one that has the possibility to make an item completely free) is excellent incentive for a student to try an establishment they otherwise might never have visited before.
Give Followers Behind-the-Scenes Footage
Another way businesses can leverage Snapchat is to give their viewers behind-the-scenes access. At the end of the snap, one can place a call to action that sends viewers to the company's social media page or website.
The New Orleans Saints have grown to become a prominent Snapchat-using brand by regularly giving Snapchat users insight into pregame uniforms, new products, and off-the-field content that can't be found anywhere else.
This same strategy can also be applied to companies specifically targeting the Snapchat-savvy college demographic. For example, a bar can show some footage of its bartenders dancing on the bar or getting ready for the night to encourage students to come in and join the party.
Preview a Product
Product previews are a great way for marketers to use Snapchat to create buzz. For example, designer Rebecca Minkoff created a Snapchat campaign that previewed her spring line before it was fully revealed during fashion week.
Aside from enticing customers, the brand was able to track social media influence by building a Snapchat database from the ground up, and by asking followers to send snaps using a certain hashtag or tagline, the brand was also able leverage their platforms against each other and achieve a certain brand synchronicity.
This is especially an effective way to gain the attention and admiration of the college market, where students pride themselves on being ahead of the curve. By sending out a sneak preview of an upcoming product, brands geared towards this demographic are often likely to initiate a social media snowball effect, as students gloat about their breaking news about the brand to their followers, who in turn often share it with theirs. With one simple snap, an entire marketing campaign centered around the new product can be created.
Study Breaks College Media provides a one-stop solution for small businesses, providing them with big marketing strategies and delivering college students.
Study Breaks magazine is an award-winning line of monthly entertainment magazines for college students with a mission can best be explained through its slogan: We are college life. Published by Shweiki Media Printing Company, it is distributed in five Texas cities (Austin, Houston, San Antonio, San Marcos and Lubbock). (Studybreaks.com)