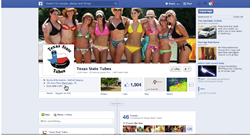 Considering the budget of many small business operations, the growth potential that social media presents--usually without cost--makes it one of the few avenues where work of any kind is instantly justified.
Austin, TX (PRWEB) September 12, 2013
There's a lot to say about social media and the actions one can take to market their business effectively within the college market, and Study Breaks has touched on a a lot of it, from optimizing one's fan page to building a database with contests, mastering Facebook's graph search and more. But despite the extreme amount of social media knowledge that exists in the web interspace, many small business owners still find the task of interacting with their customer base daunting. (Smallbiztrends.com reports that 61% of businesses see no return on their social media activities, which is a surprising statistic considering social media's main charge is opportunity cost.)
However, as is the case with any marketing strategy implementation, one should expect that they are going to have to work to find success. But considering the budget of many small business operations, the growth potential that social media presents—usually without cost—makes it one of few avenues where work of any kind is instantly justified. Here Study Breaks College Media, a leading college media entertainment company, presents key strategies for establishing and maintaining an effective social media presence within the college market and, by proxy, becoming one of the businesses that doesn't just see a return on their social media activities, but a significant one at that.
Implement Photos
Carving a social media niche as a business that takes (and shares) photos of customers is one of the quickest ways to assure interaction with one's social media acquaintances. All social media users feel an urge to share their experiences, and fan pages have the unique opportunity to provide the "friend" with a platform for sharing that's larger than their own. Encouraging tagging, updating one's cover photo to a customer representation picture, and even hiring/assigning a worker as an event photographer are all surefire techniques that can help a business become a big social media player. Even if one runs a business that is "more cash than flash," simply capturing a photo of a customer with his/her purchase (and then giving away an incentive as a thank you) is an effective way to build content and promote loyalty.
Market on Multiple Platforms
Social media moves quickly, which means that even the giants of the industry are forced to remain in a state of perpetual innovation for fear of being surpassed by the next big thing. The resulting effect of constant tweaking is that over time the platform morphs into a completely new kind of experience. Often the "oldest" platforms (and consequentially the ones that businesses are most established on) dissolve as their users find themselves fed up with whatever the site has become. As a business owner, one has a couple of key decisions to make concerning these kind of trends: they can run promotions on the most established platform, and simply start over when its popularity fades; they can establish a foothold on a lower level site, banking on being top dog if/when the site gains extreme popularity; or they can choose to market on multiple sites, undoubtedly working harder but building their brand to its max reach.
While marketing a brand on four, five or six social media sites is somewhat excessive and can feel, to an extent, counterproductive, playing to two or three different sites is a cheap way to establish market leadership. Not only does marketing on multiple sites expand one's logo into uncharted folds on the web, it showcases one's company to all the niche users who only interact on their preferred site.
Use Groups to Build Hype
As a college student, much of one's time is spent looking for cool stuff to do around town. Those marketing to students can build instant value by showcasing a forum highlighting local activities. Facebook groups are one of the best and easiest ways to do this. Whether promoting a group specifically designed for fraternity events, pool parties, or local concerts, the advantages of attracting an audience that is genuinely interested in one's content is a social media goldmine.
Once one is comfortable with an established group niche, they can work towards cashing in on their added value. Coupons, sponsorships and giveaways are tremendous social media tools designed for instant gratification and audience growth. Aside from just numbers generation, sprinkled links leading back to one's website or original fan page support growth on all marketing levels.
Study Breaks College Media provides a one-stop solution for small businesses, providing them with big marketing strategies and delivering college students.
Study Breaks magazine is an award-winning line of monthly entertainment magazines for college students with a mission can best be explained through its slogan: We are college life. Published by Shweiki Media Printing Company, it is distributed in five Texas cities (Austin, Houston, San Antonio, San Marcos and Lubbock). (Studybreaks.com)