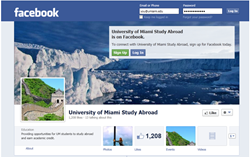 One industry in particular that is experiencing an incredible growth rate as the activity gains popularity among students is the study abroad industry, which is demonstrating growth increasing by 12% each year.
Austin, TX (PRWEB) October 09, 2013
For most students, participating, finding their niche, networking and making the cliché "memories that will last a lifetime" are all priorities during their 4+ years in college—and there are plenty of activities (and associated industries) to help them fulfill these goals, from athletic activities to student organizations, Greek branches, study abroad opportunities and more.
But there is one category in particular that is experiencing an incredible growth rate as the activity gains popularity among students, and that is the study abroad industry, which is demonstrating growth increasing by about 12% each year. As the Internet continues to shrink the globe, students have found that former obstacles like difficult communication with one's family, uneasiness about moving to an unknown area, and lack of funding options are quickly dissolving as the digital age flourishes, making the possibility to take one's studies to a different country more popular than ever. Now, the question is simply how companies in the study abroad industry can target these students.
Social Media
Social media is a key tool for any business looking to market to the collegiate market, but perhaps it is best designed for those invested in the study abroad industry. Most social sites (including Facebook, Twitter, and YouTube) are built for communication and simultaneously have informational qualities inherently built in. Study abroad companies can take advantage of social media—here, specifically referencing Facebook—by using their fan page in the following ways:

Posting testimonials and photos of students who have used the service previously, showing off the positive experiences they've had
Encouraging dialogue and serving as an easy way to field questions from interested students (aka potential customers)
Sharing deals and links that students are likely to stumble across by simply scrolling down their news feed, making the information more visible than it would be when just hosted on the website
By proxy, marketing to the "friends" of their fans, who will see that their Facebook friends, whose judgment they may trust, "like" or "follow" the page—meaning they may be encouraged to like it as well
Hosting contests and doing giveaways—think "tell us your best study abroad story for the chance to win…"—that not only engage users, but reward them as well (bonus points for like-gating said contests!)
It should be noted that all the strategies for using social media are not only beneficial, but they are free, and a study abroad company that's not taking advantage of social media is missing out and at an automatic disadvantage compared to their social media-savvy competitors.
Mobile Websites
A natural ally to social media, the creation of a mobile site is another technique used to capture a student's eye. Global mobile traffic grew 70% and average smartphone usage increased 81% in 2012 alone, and when one wants to market to a student on the move, a mobile website has proven very effective. Study abroad companies can create a simple website with tabs showing photos, information, contact details, and even links back to one's social site or university hotline. This ensures that students who aren't sitting in front of their computers all day will still have access at any time to the site, meaning they'll stay happy, informed, and without the frustration that comes from a site that's not mobile-friendly (which can lead them to dislike or give up on a company entirely).
Study abroad companies should take a look at the mobile marketing data below and ensure that their website is accessible via smartphone.
Mobile Marketing Data via Google Think Insights:
When they visited a mobile-friendly site, 74% of people say they're more likely to return to that site in the future
67% of mobile users say that when they visit a mobile-friendly site, they're more likely to buy a site's product or service
61% of users said that if they didn't find what they were looking for right away on a mobile site, they'd quickly move on to another site
50% of people said that even if they like a business, they will use them less often if the website isn't mobile-friendly
52% of users said that a bad mobile experience made them less likely to engage with a company
48% said that if a site didn't work well on their smartphones, it made them feel like the company didn't care about their business
Print Advertising
While study abroad companies typically tend to be based online, investing in an advertisement in a print publication could provide local credibility in a way that an online ad cannot. The hardest part of any business's marketing cycle is getting users to go the extra mile and check out a business' website/social media page, and because of this, college students especially are flooded with a plethora of links and online activity on a daily basis—meaning that often all these messages and ads online end up becoming meaningless in students' minds, and often are seen as an actual annoyance as well.
Local ads featuring a call to action (especially with an embedded augmented reality message) stand out and are the driving force that establishes a connection with the reader, making them want to learn more. And if the ad is in a publication that the student trusts, enjoys and is reading by choice, there's a good chance that they'll be more likely to check out that company then one that has previously annoyed them with a barrage of online ads and posts. Good avenues to consider in print advertising are college newspapers and magazines, where the content of a study abroad ad makes sense and where one is sure to target the market that they're most interested in: the valuable demographic known as college students.
Study Breaks College Media provides a one-stop solution for small businesses, providing them with big marketing strategies and delivering college students.
Study Breaks magazine is an award-winning line of monthly entertainment magazines for college students with a mission can best be explained through its slogan: We are college life. Published by Shweiki Media Printing Company, it is distributed in five Texas cities (Austin, Houston, San Antonio, San Marcos and Lubbock). (Studybreaks.com)