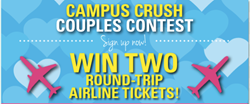 For those aimed at the ever-evolving and less traditional college market, there's still potential during Valentine's Day, as students are more likely to be open to group events and outside-the-box date and gift ideas.
Austin, TX (PRWEB) December 19, 2013
Believe it or not, Valentine's Day is quickly approaching, and while it presents obvious opportunities for those in the romance arena—flower shops, jewelry stores, fancy restaurants—that doesn't mean that other businesses can't take advantage of the potential profits that this love-oriented holiday presents. For those aimed at the ever-evolving and less traditional college market, there's an advantage, as students are more likely to be open to group activities and outside-the-box date and gift ideas.
Here Study Breaks College Media presents must-know marketing tips for Valentine's Day for those targeting the college market.
Establish A Campaign Early
One of the biggest mistakes small businesses make when catering to college students is not giving them enough time to make plans around an event. If one truly wants to be the "go-to" Valentine's Day hot spot, they will need to establish a campaign as early as possible.
Running print advertisements, social media promotions, and weekly email blasts will let students know without a doubt what one is offering and where one should go for the perfect Valentine's Day experience.
Run a Joint Promotion
As previously mentioned, most of the Valentine's Day hype is centered around a few niche industries—chocolate, flowers and fine dining, namely. If one finds their menu of products outside these choice items, it could be beneficial to partner with a local business who does sell them in order to become relevant and in the loop.
For example, if one operates a car wash, they can give away a free box of chocolates to everyone who wishes to have their car cleaned on Valentine's Day. Or the car wash could team up with a florist, and with every bouquet purchased, the customer would receive a voucher for a discounted coupon for the car wash, valid only on or around Valentine's Day. While the car wash would never be considered a business that would typically capitalize on this romantic holiday, by simply attaching themselves to a business that does, they're getting their name out there and reaping some of the benefits.
Become a Singles Haven
If there is any backlash surrounding a holiday established around love, it's within the singles demographic. Turning one's place of business into a haven for singles can be a great way to market to the alternative Valentine's Day community.
While it's inevitable that a few places will have "singles night," one can step outside of this arena by promoting a secondary promotion or getting more specific. Bars and restaurants marketing to college students can take advantage by providing an anti-date setting for singles. Whether it's a bar hosting a "single ladies night" where all ladies get in free or a "dollar drink night" so lonely participates can drown their sorrows on the cheap, executing the strategy in a way that makes one seem unique and like the go-to place to go is key.
However, one doesn't have to be a bar or restaurant to serve as a singles haven. A salon could apply the same theory, hosting a spa day for single ladies (or gents!), while a bowling alley or golf course could cater to groups who are bucking the date tradition in favor of hanging out with their friends. By simply providing some incentive in the form of an event, promotion or discount, one has the ability to capitalize on the singles population…which can be just as valuable, if not more so, than the alternative.
Build a Contest
Contests are a great way to boost student involvement (along with social media numbers). One of the great things about contests is that they are equally effective in all industries.
After all, one doesn't have to be in the restaurant industry to give away a romantic dinner. The social media numbers and web traffic acquired by a giveaway/contest (think a "cutest couple" contest that's "like-gated" so entrants and voters alike must "like" the page to participate) often make it worth it to cough up the cash for a gift certificate to a nice restaurant around town. (One could even look to the joint promotion strategy, mentioned above, to pull this off even more effectively.)
Study Breaks College Media provides a one-stop solution for small businesses, providing them with big marketing strategies and delivering college students.
Study Breaks magazine is an award-winning line of monthly entertainment magazines for college students with a mission can best be explained through its slogan: We are college life. Published by Shweiki Media Printing Company, it is distributed in five Texas cities (Austin, Houston, San Antonio, San Marcos and Lubbock). (Studybreaks.com)