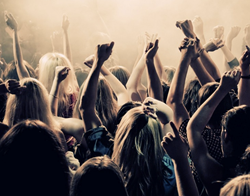 Every venue should be all over social media as if they're a band themselves, desperate to gain attention and fans.
Austin, TX (PRWEB) January 28, 2014
Every music lover craves an epic concert, and the sum of the bass, atmosphere and excitement often makes for an experience they not only remember for the rest of their lives but tell their friends about for years to come. That's where music venues can capitalize, by recognizing the hype and marketing not just a product, but an experience.
But attracting these music lovers multiple nights a week isn't an easy task for even the best venue in town, and failing to draw a crowd is a virtual death wish for any establishment's reputation. Here, Study Breaks College Media, a leading college media entertainment company, presents effective strategies for marketing a music venue to college students.
Hire Student Employees
While some may think of hiring students as a secondary solution to filling one's venue, it's common knowledge around college campuses that who you know is the most important factor in determining results—and the fact that college students tend to travel in packs is vital information that should not go ignored.
While a band will make every effort to attract their supporters, employee word-of-mouth promotion can help bring in the extra bodies needed to turn a good night into an epic one. Reminding student employees and making it part of their job description to push events out to their networks through social media (though they probably won't need much swaying) is a great way for a music venue to reach an audience they otherwise might have never been able to before. Venues can also get extra bodies in their establishment by establishing a sort of "who you know" discount to friends of students employees, providing a cheaper rate to a select number of students. This gets bodies in the door and creates a buzz in the college community, establishing one's stance as a "cool" place to go and a friend to the college crowd.
Exchange Links Through Social Media
Any music venue with an email address will most likely have their own form of social media promotion. (And if they don't, well, that should be first on their list of to-dos.) Common practice tells the promoter to post updates leading up to the concert night, complete with links to the chosen band's fan page and possibly a ticket box. For marketers looking to go the extra mile, connecting links to enhance one's reach could become a tipping point for a full audience.
This can be done through the following:
-Connecting to other venues: It's as simple as tweeting or posting something like: "Did anyone catch fill-in-the-blank band playing at fill-in-the-blank venue last month? Catch them here in two weeks!"
-Sharing videos and songs: If a venue is hosting a certain band in the coming days or weeks, posting their videos is a must, while an even better idea is just posting the videos of any artist that one would consider hosting as soon as it's out (or, even better, prior to its official release, if one can get a valuable "in" with publicists). Being ahead-of-the-curve, on top of what's popular before it even becomes popular, is a requisite of any reputable music venue, and providing insider info is a great way to gain more fans and followers on social media, to whom one can in turn push out their concerts and events.
-Connect with local music organizations: Whether it's an official music association or a college organization, partnering up and sharing each other's promotions, information and events across social media is a great way to expand one's reach (and even establish some extra cred within the industry and local scene). This partnership doesn't even have to be official, if that's not a real possibility. By simply sharing others' information, the law of reciprocity often kicks in, and soon one might find that the sharing of their own information happens virtually organically.
The bottom line is that every venue should be all over social media as if they're a band themselves, desperate to gain attention and fans. The reach of this invaluable (and free!) resource is virtually limitless, and it's crucial that a venue be all over every network to stay relevant.
Run Promotions and Contests
The favorite word of most people—and especially college students—is free, and a quick way to gain fans, grow an audience and increase traffic is by giving away something for nothing. If a venue has a beloved band coming to play and tickets are a hot commodity, the best thing they can do is give some away through a contest. For example, one could hold a contest in which participants dress up like the artist/band in question to win tickets to the show. One could instruct them to post their photos to the venue's Facebook page and run the voting through that platform. A participant (and avid fan) desperate to win votes is sure to share the link to the page, begging their friends and followers to vote for them. Then, by "like-gating" the contest—making it a requisite for voters to "like" the page to participate--the venue will automatically gain fans… to whom it can push out promotions, events and more, long after the contest in question is over.
Host Theme Nights
Theme nights are a great way to earn business when one hasn't booked a "big name" artist. By designating one night of the week to a certain genre, a venue can also broaden their audience. And while one could pick a genre that the majority of one's demographic is interested in, there is something to be said for the fact that it's not necessarily the best strategy to pick a popular genre which has tons of fans in the area; on the other end of the spectrum, it could be far more effective to pick a less mainstream genre with a smaller, but much more intense fan base. After all, there may be tens of thousands of people who claim to like rap in the area, but if one targets the hundreds who are passionate about something more obscure, these fans are likely to turn out in dedicated masses, making this venue their go-to spot and turning the theme night into a weekly ritual of sorts.
Study Breaks College Media provides a one-stop solution for small businesses, providing them with big marketing strategies and delivering college students.
Study Breaks magazine is an award-winning line of monthly entertainment magazines for college students with a mission can best be explained through its slogan: We are college life. Published by Shweiki Media Printing Company, it is distributed in five Texas cities (Austin, Houston, San Antonio, San Marcos and Lubbock). (Studybreaks.com)