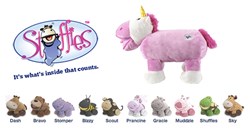 San Francisco, California (PRWEB) September 23, 2013
Lots of parents are looking for a toy that appeals to children and also teaches valuable lessons. Stuffies plush toys are now available. These soft and cuddly animals have been created to bring the joy of a toy while teaching valuable lessons through interactive storybooks. Stuffies Plush Animals are now recommended by hottydeals.com.
Stuffies series is a family of eleven animals featuring storage pockets for children to keep their treasures. They are soft to the touch and educational. They are also ideal companions for everyday play or for road trips. Each member of the Stuffies family offers a story focused on building perseverance, patience, helpfulness, and positive self-image.
Dennis from hottydeals.com says, "Stuffies series is a great line of products that not only provides the opportunity for children to play, but to also expand the creativity of children while teaching them the intrinsic values of all human beings."
All Stuffies toys also have a special surprise inside that brings delight to kids. The interactive storybooks are also ideal for parent-child reading. It promotes family time while teaching a valuable lesson.
When asked about the value of the toy, Dennis said, "It is not only about the life lessons that the Stuffies series teaches. This is also about their versatility. A parent can use it as a pillow during long road trips, or as an overnight bag for a sleepover. Its size is ideal for children to store their belongings."
Hottydeals.com is a comprehensive source of product reviews focused on giving parents an up-to-date information about the most popular toys available. Reviews from customers provide a balanced view of pros and cons of each product. The site helps parents make an informed decision when looking for a new toy.
More information about Stuffies Plush Animals can be found at http://hottydeals.com/stuffies-plush-toys/.