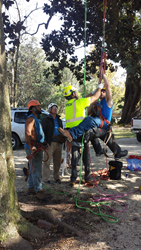 Mary Esther, Florida (PRWEB) February 27, 2015
On Monday, Feb. 9, certified arborists from Backridge Tree Service traveled to Daphne, Alabama to teach a one-day class on aerial rescue to a tree service there. Aerial rescue is the term used to describe the actions and processes used to rescue a tree climber who has become injured high in a tree. It is incredibly dangerous and requires recurring training and an understanding of complex climbing systems.
Certified Arborists Rob Calley and Travis Morales put together a hands-on program that offered all students, climbers and ground workers an opportunity to engage in valuable training. The day started with gear check to make sure all ropes, saddles, lanyards and attachment hardware were safe and up to specs. Phase two had instructors demonstrating the setting of climbing systems in trees that are very functional in an aerial rescue, and then each student had an opportunity to set systems. Climbers then used the systems to ascend and practice the new techniques. From there, students learned basic aerial rescue picks both in a tree and on a spar, and then practiced it. Procedures for calling emergency responders were covered as well because very specific terminology is required. Finally, students were introduced to advanced single rope climbing and rescue techniques.
Overall, the training went great and Backridge Tree Service sincerely appreciates that this tree company cared enough to seek this valuable training.
About the company:
Backridge Tree Service, Inc. is a specialty tree company serving residential, commercial and municipal customers in the Florida panhandle. The company was founded in 1998. Backridge Tree Service concentrates on tree pruning and trimming, tree preservation and tree removal, but they also provide stump grinding, tree installation, tree health care, and any other tree-related needs. All of their tree pruning and tree removal jobs are supervised by their professional arborists. They currently have three full-time ISA Certified Arborists on staff, Rob Calley, Travis Morales, and David Whitley. For more information about Backridge Tree Service, contact the company today by calling 850-939-8533 or visit their website at http://www.backridgetreeservice.com/.