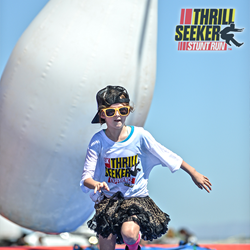 Utah is home for some of us and we want to share our passion for thrills with our friends and family!
Sal Lake City, UT (PRWEB) August 31, 2015
After Utah's first Stunt Run in May sold out all starting waves, the ThrillSeeker Stunt Run & Festival is returning to the Salt Lake City area Sept. 26th at Veterans Memorial Park in West Jordan, UT and anticipate yet another sell-out crowd.
In typical ThrillSeeker spirit, the creators plan to make things bigger and better by introducing the ThrillSeeker Stunt Festival. The original Stunt Run is partnering with Edge Powersports EnduroCross Race and ThrillBilly Mega Ramp Show to bring adrenaline-packed stunts for both runners and spectators.
The ThrillSeeker Stunt Run & Festival will include:
5K Stunt Run, Stunt obstacles w/out the 5K run, EnduroCross Racing, ThrillBilly Rodeo Stunt Show, food, music, and local and national vendors.
In addition to the stunt shows and EnduroCross racing, guests can enjoy ThrillSeeker Stunts themselves after the 5K run ends in the Stunt Festival area. ThrillSeekers will have access to featured Stunt Run obstacles like the Zip-N-Slide, Pole Vault, Swingers Island, and Spinning Blocks.
ThrillSeeker Stunt Expert, Jared Willardsen, says, "Utah is home for some of us and we want to share our passion for thrills with our friends and family. You can choose the do the 5K Stunt Run or not run and try out some of our top stunts in the stunt festival area. For those who like to watch, check out the EnduroCross Racing and the ThrillBilly Rodeo. We've got thrills for everyone."
When: Saturday, September 26th, 2015
8 a.m. Stunt Run start time (waves starting every 10 minutes)
2p.m. EnduroCross qualifying
3 p.m. Kid's Stunt Run start time (open to ages 6 through 12)
4p.m. Stunt Festival opens (closes at dark)
7p.m. EnduroCross main event
*ThrillBilly Rodeo to perform every other hour throughout afternoon
Where: Veteran's Memorial Park
8030 S. 1825 W.
West Jordan, Utah 84088
Tickets for Stunt Run: Visit the official website at http://www.stuntrun.com
Stunt Festival Price:
One-time punch pass: $5 for Stunt Run participants, $10 for non-racers
Unlimited pass: $10 for Stunt Run participants, $20 for non-racers
About ThrillSeeker Stunt Run
The ThrillSeeker Stunt Run is a one-of-a-kind course designed by Hollywood stunt producers. Created by a past producer of Nitro Circus and Thrillbillies, the run includes over a dozen stunts, giving participants the opportunity to experience "as seen on TV" challenges in a fun environment with friends and family.